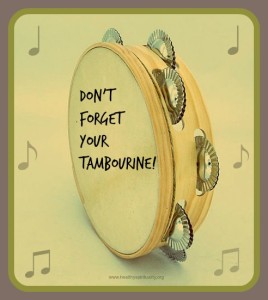 Then Miriam the prophet, Aaron's sister, took a tambourine and led all the women as they played their tambourines and danced.
Exodus 15: 20
"Don't forget your tambourine," the speaker said. Once she explained her meaning, I never thought of tambourines the same. She was referring to the verse above from the Exodus story.
Miriam, Moses, Aaron and all the Hebrews were leaving Egypt. They packed in a hurry, taking only a few precious possessions that they could carry. Amid the chaos of a sudden escape, being chased by the Egyptian army, they headed to the Promised Land. Dusty bedlam, unknown future and fear also pursued them.
God interceded and the waters crushed Pharaoh's horses and chariots. They were safe on the other side of the sea and leaving the past behind, they began their journey into a new future.
This is when Miriam and the women brought out their tambourines.
Do you see it? I missed it the first time. See it?
     Before they left.
           Before they knew what would happen.
               Before they took even the first step towards their destiny.
                    They packed their tambourines.
They knew they would dance again.
     They knew someday, somewhere they would have reason to celebrate.
            They wanted to be ready when the invitation came to rejoice.
                   They trusted the God of the Dance to provide music once again.
                         They didn't forget their tambourines.
As one year ends and a new one begins, is it time to take out our tambourines? Some of us will immediately want to start the dance, celebrating all the good things that happened in 2014. Some of us just want the year to be over and done and that may be the reason to celebrate.
Tambourines give me hope. This simple instrument symbolizes for me that God is with me and someday, even on the darkest days, I will dance again with him.
Maybe not now.
But someday.
And I will pack my tambourine so I am ready like Miriam was when the time is right.
Tambourines are shaped like prayer. I pour into its open shell my shattered unfulfilled dreams, my leftover anger and disappointments, my delights and dreams and lift them up to God. I turn the tambourine over and empty all the joy and junk from last year into God's hands. I give him everything – all of it, the entire year's worth of senseless stuff, scars and sickness and short-lived selfishness.
Then I dance for God.
Then I dance with God.
And we will keep dancing together.
In gratitude that no matter what occurred in 2014, God was with me.
No matter what will happen in 2015 God will be with me.
And that is reason to celebrate.
Raise your tambourines and move to the beat of God's love as we leave behind 2014 and twirl into the gift of a new year. Let's dance.