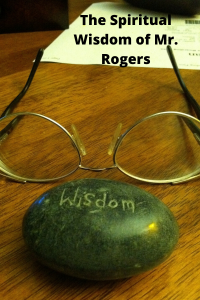 Wisdom appears in many places.
I had a date with my hubby a few weeks ago. We were joined by a special person – Mr. Rogers.
Our date comprised seeing the new Fred Rogers Movie – A Beautiful Day in the Neighbor with Tom Hanks as Mr. Rogers.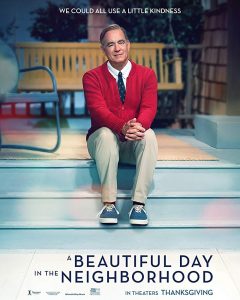 Yes a delightful time together.
Yes, a great movie.
Yes, I did indulge in buttery movie popcorn.
And wow, what spiritual wisdom!
Just think – Fred Rogers died in 2003, yet last year his story was told in a popular documentary and this year in an Oscar-worthy movie.  His authenticity and legacy are powerful, lifegiving and encouraging in a bitter, angry world.
We need Fred Rogers.  We need to be more like him.
The Spiritual Wisdom of Mr. Rogers
Based on the true story of a real-life friendship between Fred Rogers and a journalist, this movie is a story about grace, forgiveness, and love.
Our life story too.
A Beautiful Day in the Neighborhood soothes people of all ages in this time and culture of anger, politicalizing (you hardly can say anything without someone taking it the wrong way), and fear.
Our stories need this wisdom.
This movie demonstrates the power of kindness, gentleness, and being present to the person right in front of you.
In the middle of the first hymn at church last Sunday, I glanced up to the stained-glass window before me and felt Jesus looking directly at me.  ME!  Jesus saw me!
I felt seen.
I felt accepted.
I felt loved.
For a brief moment, Jesus and I were the only ones in the sanctuary.  God fully present.
Reminded me of the story of Hagar in Genesis 13 who encountered God in a surprising way as she runs away from her current circumstances.
God comes to Hagar, pays attention to her story, listens to her side and guides her on her path. This moment forever changes Hagar's relationship with God, her self-image, and how she sees her life. She proclaims, "You are the God who sees me… I have now seen the One who sees me" (Gen. 16:13).
This is our God too – One who sees us, accepts us, and love us.
The Wisdom of Seeing, Listening, Accepting, and Loving
The world needs a sense of worth, and it will achieve it only by its people feeling that they are worthwhile. – Fred Rogers
Fred Rogers communicated his full presence to the person he was with.  No matter how small, how unknown, or how sad – you were worthy of his time and attention.
He really saw the other.
Then he paid full attention to them, noticing and listening.  Loving and accepting.
Love isn't a state of perfect caring. It is an active noun like "struggle." To love someone is to strive to accept that person exactly the way he or she is, right here and now.
Just this past week I was upset about tensions in a relationship and felt isolated, ignored, and alone in my struggle. A friend noticed and asked.  She sat down quietly and listened.  When I tried to change the topic, she gently brought me back to the issue. With her kindness and love, my hurt began to heal, and my mood shifted.  Thank you, MB!
Fred Rogers Wisdom
The following are some quotes from Fred Rogers, not from the movie but various sources:
If you could only sense how important you are to the lives of those you meet; how important you can be to the people you may never even dream of.
There is something of yourself that you leave at every meeting with another person.
Imagine what our real neighborhoods would be like if each of us offered, as a matter of course, just one kind word to another person.
You know, I think everybody longs to be loved, and longs to know that he or she is lovable. And, consequently, the greatest thing that we can do is to help somebody know that they're loved and capable of loving.
I believe that appreciation is a holy thing, that when we look for what's best in the person we happen to be with at the moment, we're doing what God does; so in appreciating our neighbor, we're participating in something truly sacred.
As human beings, our job in life is to help people realize how rare and valuable each one of us really is, that each of us has something that no one else has–or ever will have–something inside that is unique to all time. It's our job to encourage each other to discover that uniqueness and to provide ways of developing its expression.
Healthy Spirituality Update
This will be my last post until 2020. I may hop on with a few Christmas memes before the end of the year, but I am taking some time off to be with God and my family over the holidays.
Every year I reread my journal and spend time with God in reviewing the past year and praying for the next year. I call this Harvesting my Journals.
Realized a few weeks ago that Dec 31 is not only the end of the year, but of a decade. Man, what changes have occurred in the world, in my family, in my work, and in my heart since 2009.  I have gathered all my journals from this past decade and plan to spend some time reviewing them for wisdom, patterns, lessons learned and forgotten.
I will share my insights early in January when I return to this blog.
Praying you have a blessed Christmas and wonderful new year.  Thank you for being my friends here on this blog and for your love and support. I am glad you are my neighbor in this beautiful neighborhood.
What wisdom of Fred Rogers touches your heart?