Patty Wysong has created a fun meme where once a week bloggers posted on the letter of the week. Check out the details here.

 

It is called A2Z: Take 2. A2Z as she challenges bloggers to write a post each week going through the alphabet.

 

Take 2 since this is the second time she has used this meme. Anyone can join in and you don't have to always participate.
This fun meme has now progressed to the letter S. The letter S reminds me of the priceless spiritual lessons from friendship.
The Spirituality of Friendship
 

I like to give, but find it so awkward to be on the receiving end. Do you ever feel like that?
Maybe it is my ego and pride. Probably more like me wanting to keep up the false pretense of self-sufficiency.
Fear is another reason: What if people find out I am not perfect? Oh, no, they may reject me or make fun of me.
Friendship holds many lessons for us spiritually and lately gifts from friends have brought these lessons into focus for me.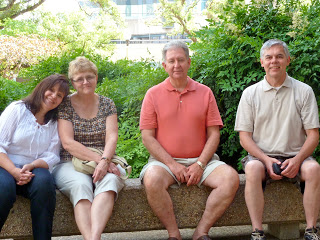 1.

 

Sacrifice – A few weeks ago we traveled to Texas. Our friends there were such gracious hosts all week long.
 

I hated to ask them for one more favor. My brother lived in San Antonio and I hadn't seen him in more than 8 years. Would they mind if I contacted him and set up a lunch or dinner with him?
  

Not only did they encourage me to go for it, they offered to hold a cook out in their backyard. What a gift.
  

To my surprise, not only did my brother come over, but his fiancé, his ex wife and her friend, and my nephew, his wife and their four kids. We had a wonderful reunion.
  

At one point during the party I looked up and watched my busy friends – the ones who hosted the party, our traveling buddies from Ohio and my precious hubby, working their tails off, welcoming these strangers, serving food, and cleaning up the mess as the party wound down.
  

How could I ever thank them for this sacrifice of friendship, this priceless gift they gave me? Sighing, I simply received their offering with a grateful heart.
  

"God has given us two hands, one to receive with and the other to give with." ~Billy Graham
2. Social – Friendship gives us opportunity to reach out and share our lives with one another. Last week I had the gift of meeting fellow blogger, Nancy Franson, when she traveled on the Ohio Turnpike on her way to Chicago.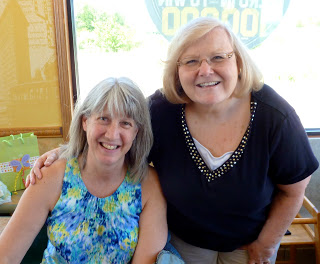 Nancy brightened my day. I so appreciated her taking the time to stop and deepen our friendship beyond cyberspace.
 

God meant us to live in community but this takes time, effort and risk.
"The reality of all life is interdependence. We need to compose our lives in such a way that we both give and receive, learning to do both with grace, seeing both as parts of a single pattern rather than as antithetical alternatives." ~ Mary Catherine Bateson
3. Sacred Surprises – I think some of the best surprises God sends us is through friendship. When I attend writer's workshops, my agenda is full of topics to learn, agents and publishers to meet with, books to buy and resources to acquire. God then surprises me with new friends.

 
   

My online writer critique group, the Kindred Heart Writers, met at the 2007 Florida Christian Writers Conference. We held in common as desire to grow as writers, but never in my wildest imagination would I have guessed the gifts of prayer, support, encouragement, resources and companionship I have received from these four ladies.

 

I know they are a gift from God.

"Some people come into our lives, leave footprints on our hearts, and we are never the same." Unknown
Thank you Lord for friendship and all the very special spiritual lessons that bloom from them.
How have your friends enriched your life?