The Story of St. Elizabeth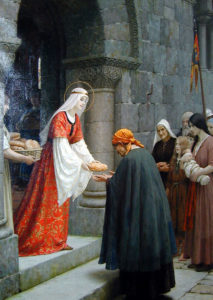 I have heard the story of St Elizabeth of Hungary for most of my life. Ever heard of her?  I know many have not, but across the centuries I feel a bond with her.  And on my recent pilgrimage to Germany I walked with her through her castle, Wartburg Castle.
The Story of St. Elizabeth of Hungary
Though no one knows for sure the exact date of her birth, often July 7 1207 is mentioned.  Her father was King Andrea II of Hungary and her mom's name is Gertrud.
Remember this was the time of murder, deceit and strange arrangements among royalty. When Elizabeth was only four, she became a pawn in the imperial maneuvering. Marriage among different kingdom build alliance and strength so Elizabeth was betrothed to the Landgrave of Thuringia in what we now call Germany.
Elizabeth arrived at Wartburg Castle. Can you imagine how frightening that would be to a four-year-old?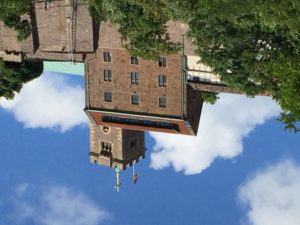 Strange country. Strange language. Strange surroundings.
Stories abound that Elizabeth as a child was deeply religious. She would be playing and stopped suddenly to pray to God.  It is said throughout her life that Elizabeth often got up during the night to pray.
Three years after her arrival the son she was to marry, died. Then the king did too. What would happen to Elizabeth?  Surprisingly the second son, now the landgrave, spoke up and announced he would marry her.  Some would say later on the two had play together, grown up together, knew each other as friends – and fell in love.
In 1221, Ludwig, age 20, married Elizabeth, not quite 14. Built on friendship their marriage was not as conventional as those before.  Elizabeth didn't stay back but accompanied her husband on long rides throughout the country.  She kissed him in public. They discussed the condition of the people.
With Ludwig's approval, Elizabeth started a hospital with 28 beds at the foot of Warburg Castle where it was known she visited regularly to comfort and care for the sick. This is one reason why many hospitals are named St Elizabeth.
Two legends encircle Elizabeth: One is how she cared for lepers.  She took one in and put him into their bed. When Ludwig came in and pulled back the sheets, expected to see the sick man, he saw Christ.
The second story is called the miracle of the roses:  Elizabeth was carrying bread from the castle out to the villages to feed the poor and met Ludwig on her way.  He asked what she was hiding in her skirt and she replied, "Roses."  Roses then appeared in her skirt instead of the bread.
Ludwig joined the crusades but on his way to the Holy Land, he died in Italy.  Her life as a widow with her three children then took a sad turn.  The royalty no longer wanted or needed her.  Perhaps they were also embarrassed by her care for the poor and sick – not "very becoming" of the court.
Elizabeth was forced to leave Wartburg Castle and fled with the kids to Marburg where she joined the secular Franciscans order. In Marburg she devoted all her time to the poor and sick. Another new hospital was built where she worked. She often spoke of her intense love for God.  She died in Marburg at just before her 24th birthday and it is said hundreds of people pay tribute to her.
Elizabeth's life story boiled down to this: The love of God and the care of the poor.  Not a bad legacy to leave, is it?
St Elizabeth and my great Aunt Anna Story
My great Aunt Anna lived in Germany in the 1930's while working on her dissertation on the German mystics. She visited Wartburg and Marburg and watched the 700th commemoration and celebration of Elizabeth's life.
Aunt Anna brought home a collection of photos, material and stories about Elizabeth. Anna wrote later, "I carried Elizabeth around in a suitcase for ten years until she begged me to write her story."
Aunt Anna's second published book was about St Elizabeth and yes I own a copy of it.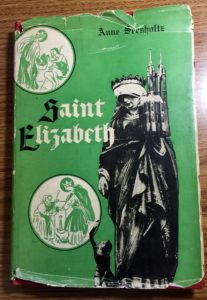 Their stories merge into one.
St Elizabeth Story Intertwined with my Story
I have always cherished the story of Elizabeth calling out from the suitcase to be written by my Aunt Anna.  When we were getting ready to go to Germany and I was studying all the places we would visit, I began to read about Wartburg Castle.
Now Wartburg Castle is well known to the reformers as this is the location where Martin Luther hid for a year and began to translate the Bible into German.  Imagine my surprise when I put the two stories together; Wartburg Castle also held St Elizabeth's story. 

I loved walking through the room decorated in her honor and retelling her story.  I felt a interconnectedness between generations, cultures and centuries. May her lessons of her undivided devotion and love for God and the continual care of poor enlarge all of our hearts for more compassion.
This is my final post about my pilgrimage to Germany.  I hope you have enjoyed these reflections based on my travels. Along with this series this month, I compiled into a free download some of the German Prayers, Blessings and Quotes we used on the trip or that I found elsewhere. Please just click on the button below to get this resource and I hope you enjoy its words.
Click Here to get the resource guide! Thanks!
Remember next week the scheduling of Healthy Spirituality will change. I plan to post Monday through Friday (yes, five days for only one week!) for a special series called Spirituality Summer School. We will be exploring how to slow down to be with God.  I hope you visit the blog AND  hop over to my Facebook author page where I will be broadcasting live at 1:30 eastern each of the five days. I think it will be fun to do live streaming and hold conversations about how we can slow down to be with God. Please do try to watch me (would appreciate the support) and yes, there will be a replay on the Facebook page so you could watch later.
Ever have someone else's story resonated with you deeply?  Let's share our stories with one another.