When we traveled through Yellowstone this summer, the scenery overwhelmed me. I stood speechless in front of God's incomprehensible creation of radiant colors in the translucent water pools and rising ghosts of eerie white steam against extraordinary blue skies.
Behold the wonder of God.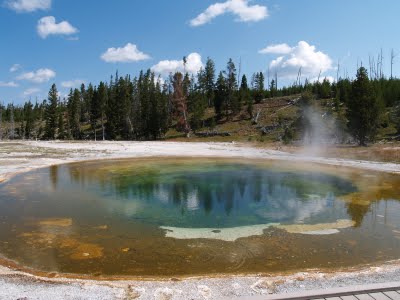 The planet we stand on is a mere glimpse of his creation, a small sliver of what he has made. Just imagine for a moment what God has created that we cannot see.
God's invisible handwork.

As a nurse, I know full well the intricate marvel of the human body. The multitude of well organized mini-components working inside each of the estimated 100 trillion cells that makes up our bodies.
Behold the wonder of God
The Human Cell


The power of a tiny microorganism to bring us mighty humans down. I am fascinated by the beauty of the viruses and bacteria who unfortunately spread havoc and fear in our world:
Behold the wonder of God
The Flu Virus


Our thoughts about the universe – its vastness, its creation and its dying – changed dramatically with the Hubble Telescope images. God's world is alive, expanding and ever evolving:
Behold the wonder of God
These photographs humble me. I realize once again how little I am and how insignificant my ups and downs really matter in this immense cosmos.
Yet God tells us he loves each of us. He created every one of us. He counts the number of the hairs on our head and has our names inscribed in the palm of his hand. WOW
My inadequate and weak words fail to fully express my awe. My heart leaps with praise – thanking the God of All Wonders – both visible and invisible.
Yellowstone photo taken by me, Other photos from Google Images