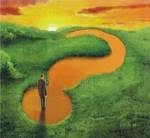 By faith Abraham, when called to go to a place he would later receive as his inheritance, obeyed and went, even though he did not know where he was going. Hebrews 11: 8
Even though He did not know where he was going.
I feel that way most of the time, Lord.  Moving all the time yet not knowing where I am going.
Reminds me of Thomas Merton
's Prayer:
My Lord God, I have no idea where I am going. 
I do not see the road ahead of me. I cannot know for certain where it will end. 
Nor do I really know myself, and the fact that I think I am following your will does not mean that I am actually doing so. 
But I believe that the desire to please you does in fact please you and I hope that I have that desire in all that I am doing. 
And I know that if I do this, you will lead me by the right road although I may know nothing about it. 
Therefore will I trust you always though I may seem to be lost and in the shadow of death, I will not fear, for you are ever with me and you will never leave me to face my perils alone. 
Yet Abraham took his next step on faith
Merton took his next step in trust
I will take my next steps into this new year and new decade with faith and trust.  Faith and trust that I cannot dig up on my own; I need you even to provide that, Lord.
I ask you tonight for your gift of faith like Abraham and trust like Merton to step out into the future "even though I do not know where I am going."