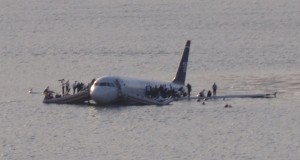 I love Ted Talks. If you haven't discovered their wisdom in 20 minutes or less, please explore their varied issues. You won't regret it.
I listened to one the other day by Ric Elias. He was a passenger on the plane that hit birds and endured an emergency landing on the Hudson. "The Miracle of the Hudson" it is rightfully called.
In his talk he lists the "Three Things I Learned when My Plane Crashed." How's that for a wild title? He no longer postpones things; he no longer tries to be right; he chooses to be happy and his only goal in life is to be a good dad.
I wondered if I found myself in the same predicament and hopefully lived to tell about it, what would come to my mind?
I think I would regret the time I waste. I am not upset about times of rest and reading and just vegging with friends – I need more of that. But time I chose to hid in my office (exactly what I am doing right now to be honest) instead of being with my hubby. Of course he is just watching television but I could curl up next to him. I would regret not embracing the precious time we have together.
Second, I would laugh more. I get too focused, too serious, too boring. My blogging friend, Jen Ferguson's word of the year is FUN. I love that word and where it is taking her this year. I need a sprinkle of joy more often in my life.
And last, I would slow down and savor what I read. I skim too much and wade in the shallow waters. I want to dive deep and drink in wisdom from sages. Currently I am feeling quite a calling to spent time with ancient voices of wisdom.
Guess I don't need a plane emergency to rethink values in my life but this Ted Talk certainly gave me moments to ponder. Someone ask me in six month if I put any of these into practice?  ok?
What three things do you think you would learn if you experienced a near death event?