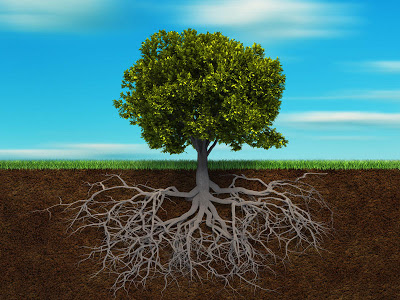 How do we keep growing deeper with God? One theme in my life this year has been growing deeper.
A Bible verse calling to me recently is:
"Then Christ will make his home in your hearts as you trust in him Your root will grow down into God's love and keep you strong. 
Ephesians, 3: 17
I have been trying to live this call in 2013 in two ways and just discovered last week another way I can't wait to try.
Three Books about Growing Deeper with God
I prayerfully asked God to lead me to three books to reread in 2013. I chose – hopefully with his blessing -:
What I am doing is rereading these texts slowly and savoring their lessons. I highlight, rewrite passages in my own words and journal my thoughts. Too often I skim books and quickly forget their words of wisdom.
Lectio Divina means divine reading and is an ancient Christian practice. I read verses from the Bible in a slow, contemplative prayerful manner. This cultivates the ability to listen deeply, to hear "with the ear of our hearts" as
St. Benedict
encourages us.
Actually I read the verses four times. The first time read slowly, attentively, gently listening to hear a word or phrase that is God's word or gift for me that day. Often a certain word jumps off the pages into my heart like a dart.
I read it a second time and once I have found a word or a passage in the Scriptures that speaks to me in a personal way, I ponder it for a while, aware of what stirs within my heart.
The third time I talk with God about this word/phrase.
The fourth time I simply rest with God, listening, loving, leaning on him.
Verse mapping  – Growing Deeper with God
I just discovered this method last week
on this blog
. This way helps you memorize Bible verses and plant them deep in your heart.
You personalize the words, highlight words, study it in depth, and circle words study. This of course would take time but imagine taking a key verse each month and exploring all of its nuances.
Three tips to growing deeper. My challenge to you is to try something yet this year to extend your roots into God's immense love.
How are you growing deeper with God this year?