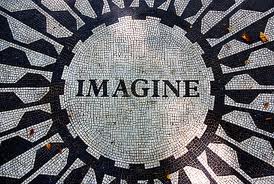 I played in a spaceship when I was seven years old.
I spent hours exploring new worlds found in my imagination while never really leaving my backyard.
My spaceship? A stocky tree with great climbing branches planted next on the southeast corner of our house. Different limbs warped into sections of my spacecraft: the galley, the lookout, the bridge for guiding my rocket into the mysterious universe.
Sigh. I loved that tree.
Patty Wysong has created a fun meme where once a week bloggers posted on the letter of the week.
Check out the details here.   It is called A2Z: Take 2.
A2Z as she challenges bloggers to write a post each week going through the alphabet.  Take 2 since this is the second time she has used this meme. Anyone can join in and you don't have to always participate.
This week's letter is I.
Imagination can be a helpful tool, even for adults. We use our minds to dream up decorating ideas, plots for novels, and innovative approaches to problem solving. But have you ever thought of how you use your imagination spiritually?
Imagination is the ability to form a mental image of something not present to the senses. It is our capacity we have for innovative thinking and creative expression.
St. Ignatius Loyola
was born in 1491 and is the founder of the Jesuits. His writing is a deep well for spiritual directors, those seeking discernment and anyone with a hunger to grow closer to God.
Ignatius encouraged the use of imagination in our spiritual walk. Here are three ways you might want to try imagination with your faith:
1.
Bible reading
– Try imagining yourself as one of the characters or even a witness in a scene from the Bible. The gospels offer many opportunities to become part of the story:
What if you were the woman at the well speaking with Jesus? Which character are you in the story of the Good Samaritan or the prodigal son? The man being lowered from the roof of the house, seeking healing? Walking with Jesus on the road to Emmaus?
Visualize the event as if you were making a movie. Pay attention to the details: sights, sounds, tastes, smells, and feelings of the event. Lose yourself in the story.
2.
Prayer –
Often I set an empty chair in front of me and imagine Jesus sitting there as we talk. I imagine Him asking me,
"What do you want? Where are you right now?"
What has surprised me over the years of this practice is so many times I only hear how He loves me (hard for me to hear to be honest) or we just enjoy each other's presence with no words between us.
3.
Discernment
– When faced for a decision imagine the consequences imagine if you followed one way or another. Does this bring you closer to God or take you away from Him? Does going in one direction bring you peace, energy, and hope or does it drain your spirit? Trying writing down what your life would look like after making a decision. This is one place keeping a journal is so helpful.
Quotes about imagination to ponder:
I saw the angel in the marble and carved until I set him free.  ~Michelangelo
You can't depend on your eyes when your imagination is out of focus.  ~
Mark Twain
Your imagination is your preview of life's coming attractions.
 –
Albert Einstein
Believe that you have it, and you have it.
 -Latin Proverb
The soul without imagination is what an observatory would be without a telescope.
Henry Ward Beecher
.
I like nonsense, it wakes up the brain cells. Fantasy is a necessary ingredient in living, It's a way of looking at life through the wrong end of a telescope. Which is what I do, And that enables you to laugh at life's realities.
Dr. Seuss
How do you use your imagination spiritually?