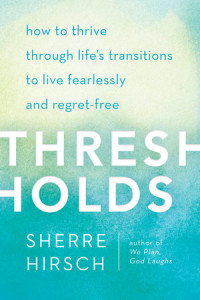 As a spiritual director one of the most frequent topics I hear from my directees is about making decisions at significant points in their lives. Discernment, uncertainty, worry and/or fear of change, the unknown and mystery of what will happen if…affect all of us throughout our lives.
Knowing this is a huge issue for many people is what attracted me to Sherre Hirsch's new book, Thresholds, How to Thrive through Life's Transitions to live Fearlessly and Regret-free. I received this book from Blogging for Books in exchange for my honest review, but am excited to share it with you today.
Sherre Hirsch is a Rabbi who weaves wonderful Bible story examples and contemporary illustrations into her writing. She is easy to read, encouraging, engaging and empowering with this message. This book would benefit anyone facing life transitions or those who help others in those challenging times.
One section that made me smile is titled: "It's Time to Stop Using the F word." Using Moses as her example, she shows how fear is at the root of most of our excuses. She does acknowledge that fear isn't all bad – if can save us from life threatening situations like a bear attack but most often we allow fear to direct our decisions, whether to cross certain thresholds or not in a response to something not even real.
Another clever title was "Trauma and Drama are Not the Same Things" – – how true. See why this book not only is helpful, but enjoyable to read.
Hirsch also present very practical tips, like using a Wait Box. Don't make quick rash decisions you may later regret. She writes "There is always value in waiting and letting the thoughtful response catch up with the emotional one."
Another good quote:
"You get it right when you trust yourself. When you realize that while other people can offer you advice and suggestions, the real answer in inside you. When you choose to believe in yourself – even I moment when you feel tremendous doubt. When we realize that each time you face your fears, you are getting better at it; you are becoming more practice and more skilled. Then you will see that making the decision to move to the next room becomes easier and easier because you value and trust in your own decisions."
A good book filled with wisdom and guidance and one I will recommend to those struggling with discerning their next steps. I have several passages marked for personal use in my journal too. Rabbi Hirsch would be someone I would love to sit down with over tea or coffee and get to know better.
What books are you reading right now?