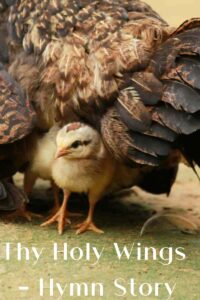 Thy holy wings O Savior,
Spread gently over me
And let me rest securely
Through good and ill in thee.
Oh, be my strength and portion,
My rock and hiding place,
And let my every moment
Be lived without thy grace.
We sang this hymn a few weeks ago in my parish. I led the worship so prayed these words at four different services over the weekend. Both the tune and the deep meaning of the lyrics lingered in my soul like a pleasant fragrance and a warm hug.
The words are based on Matthew 23: 37: "Jerusalem, Jerusalem, the city that kills the prophets and stones those who are sent to it! How often have I desired to gather your children together as a hen gathers her brood under her wings, and you were not willing."  The other Bible verse reflected in this hymn is Psalm 91:4: "He shall cover you with His feathers, and under His wings you shall take refuge."
The image of Christ as a hen gathering us under his wings is both soothing and also unusual for me. You too? But the words bring peace, comfort, rest and so much grace and love.  The music is a lullaby for the soul, no matter your age.
Who wrote this hymn? Her name was Caroline [Karolina] Wilhelmina Sandell-Berg (1832-1903) who also wrote another familiar hymn, "Children of the Heavenly Father," one we frequently sing at church.
Karolina Sandell was born in Sweden and was the daughter of a Lutheran minister who was influenced by seventeenth- and eighteenth-century pietism and the Moravians. She found her voice in the poetry of hymns, writing as many as 2000 hymns, 650 of which were published in three collections. She would write the lyrics, matching them to folksongs.
2000 hymns? Wow! Because she wrote so many hymns, she's been called the "Fanny Crosby of Sweden."
Lina, as she is often called, didn't put her name of these collections of hymns as she wanted to stay humble. This is also demonstrated in her work as Sweden's first successful female head of a publishing house. She never referred to herself as the head but more as ''the little maid of the Association."
Here is a YouTube so you can hear both the words and tune. If you are reading this through your email you may have to go directly to the blog to see the video.
Admitting we are weak and need God's protection and strength can be difficult for our egos. Yet when I come to the Lord, humbly like a child, his song of love gathers me close and comforts my spirit. Yes Thy Holy Wings is a lullaby for the child in all of our hearts.
How has music resonated with your soul lately?