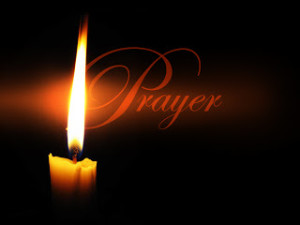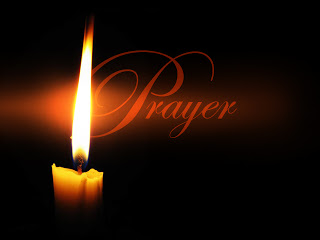 This summer Healthy Spirituality has been and will continue to explore different approaches to prayer. With 2018 being the year of prayer here on this blog and in my faith community it is the perfect time to try a new way of praying and opening our heart to God.
One of my favorite ways to quiet my soul to hear God is through the use of breath prayers.
What are Breath Prayers?
The Bibles teaches us to "Pray without ceasing." (1 Thessalonians 5:17)   How do we do this?
A breath prayer is a very short prayer that can be said in one breath and repeated throughout the day.
It is an ancient form of prayer, found in writings as early as the second century. The prayer communicates a sense of nearness with trust and dependency on God.
Perhaps the best-known breath prayer is called the Jesus Prayer: "Lord Jesus Christ, Son of God, have mercy on me a sinner." This prayer had its origin within the Christian tradition of the East and can be traced back to the sixth century. At the time, monks and other people who were seeking a deeper relationship with God sought some disciplined form of prayer that they could pray at any time in any place.
"This way of simple prayer, when we are faithful to it and practice it at regular times, slowly leads us to an experience of rest and opens us to God's active presence. Moreover, we can take this prayer with us into a very busy day. When, for instance, we have spent twenty minutes in the early morning sitting in the presence of God with the words "The Lord is my Shepherd" they may slowly build a little nest for themselves in our heart and stay there for the rest of our busy day. Even while we are talking, studying, gardening, or building, the prayer can continue in our heaert and keep us aware of God's ever-present guidance. The discipline is not directed toward coming to a deeper insight into what it means that God is called our Shepherd, but toward coming to the inner experience of God's shepherding action in whatever we think, say or do."

Henri Nouwen
The practice of breath prayers offers us the opportunity to continually praise God and focus on him. These short repetitive prayers contained in one breath allow the rhythm of our breathing to form spirit-filled words that accompany us with our every breath.
Breath prayer becomes our lifeline – like oxygen at the top of the mountain – where day-to-day living is rough, where we gasp for lifegiving air, the spirit of life. Soon prayer permeates our every moment. God's presence bathes our body and spirit reminding us he is with us.
Breath prayers are short prayers said in one breath often only 5-7 words in length. Generally it involves quietly repeating a phrase for several minutes allowing the prayer to merge with one's breathing so that the words accompany every breath.
Breath prayers evolve into deep expressions of the heart. The idea is to pick a meaningful phrase and repeat it until it become part of your very being. Breath prayers can be helpful when you don't know what to pray.
Rick Warren discussed breath prayers in his best seller titled The Purpose-Driven Life. "You choose a brief sentence or a simple phrase that can be repeated in one breath…Pray it as often as possible so it is rooted deep in your heart."
Ruth Haley Barton suggests that "Once you have discovered your breath prayer, pray it into the spaces of your day – when you are waiting, when you are worried and anxious, when you need a sense of God's presence. Over time learn to pray it 'underneath' all the other thoughts and words that swirl around you throughout your daily interactions."
The Experience of Breath Prayers
Each breath prayer expresses dependence on God, seeking to trust him more. We begin to experience a sense that we are asking something to be formed within our hearts. Through our requests, God helps us find this deeper intimacy with him by sharing in each other's breaths. We exhale our will and breath in God's presence in a prayer of surrender.
Breath prayer slows us down and refocuses our heart on God. The practice leads to genuine praise, confession and listening. It feels like an echo of how Paul describes the Spirit helping us in our weakness as we pray:
"In the same way, the Spirit helps us in our weakness. We do
not know what we ought to pray for, but the Spirit himself
intercedes for us through wordless groans. And he who searches
our hearts knows the mind of the Spirit, because the Spirit
intercedes for God's people in accordance with the will of God."
Romans 8:26-2)
We don't embrace the practice of breath prayer just to earn some badge or gain some benefit. This prayer arises from our desire to follow Christ, to be open to his guidance, and to serve him in all of our actions.
"Breath prayer is discovered more than created. We are asking God to show us his will, his way, this truth for our present need."
Richard Foster
Tips for Using Breath Prayers
For the initial practice, find a quiet place and a comfortable position. I like closing my eyes and placing my hands on my knees or in my lap. Take a few deep breaths without worrying what words may come. Rest for a few minutes in God's presence.
Ask God to be with you and to help you form your breath prayer.
You may have selected ahead of time the words of your prayer or checked out a few favorites from the list below. Remember to choose a short phrase that can be prayed within the rhythm of each breath.
Allow your breath to carry the words. Repeat the phrase and before long you will be naturally breathing the prayer.
As you finish, pay attention to your breathing once again and simply say amen or thank you.
Throughout your day, remember to repeat your breath prayer.
With practice breathing prayer comes more natural. You may find yourself praying as you walk or drive or clean the dishes. Some people incorporate this prayer before worship. Soon youwill experience God being with you in all the moments of the day.
Additional tips to consider when practicing this prayer follows:
Think about the nearness of God as you breathe. Remember that God is with us and within us at all times. We are children of God and he wants to be closer to us.
Give yourself permission for the breath prayer to voice your deepest desires or emotions. The Psalms are full of great examples of prayers in times of fear, disappointment, sin, joy, and celebration.
Sometimes just repeating a one or two syllable names for God becomes a wonderful breath prayers. "Jesus." "Shepherd." "Savior." "Holy Spirit."
As you breathe, imagine breathing God or Christ inward and exhaling your ego or selfish state of mind outward. Invite God to enter into every cell of your being. Tell him you want to be closer to him.
Remember there is no one or only right way. You will end up with some of your favorite "go-to" breath prayers.
Times of silence will happen; just be with God. Ask God for help. Consider that God is present and asking you what you need. Often a question from a bible story opens up into prayer for you. "Do you want to see?" "What do you really want?" "Where are you?" The answers to these questions that bubble up spontaneously become the foundation of your prayer.
Record your favorite breath prayers in your journal.
Identify a few triggers throughout the day to remind you aboutyour breath prayers. Examples could be starting the car, drinking your coffee or tea.
Remember this prayer in times of anxiety, frustrations, impatience or feelings of unworthiness or defensiveness. Practicing breath prayers before I speak in front of a crowd relaxes my nerves and helps me focus.
Be open to new prayers. Watch for a Bible verse that resonates with your breathing and excites your spirit.
Breath Prayer Examples
"Lord Jesus Christ" (while breathing in), "have mercy on me, a sinner" (while breathing out).
Thank you, Jesus.
Come quickly Holy Spirit.
Help me to love as You love, Lord.
God, guide my steps this day. Show me the way.
Our Father, hallowed be thy name.
Your will, your way, your time.
Peace be still.
More of Jesus, less of me.
Abide in Jesus; bear fruit.
Be still and know that I am God.
Lead me; guide my steps.
Beloved, you are enough.
In you, Lord, I put my trust.
Help me understand your ways, Lord.
Lord I am yours.
My Lord and my God.
Peace.
Faith.
Be.
Love.
Abba.
Come.
Gracious Lord.
Only you. Lord.
Lord, show me your way.
I wrote a book about breath prayers that you may be interested in. Whispers: Being with God in Breath Prayers is available on Amazon.
Anthony de Mello tells this story:
Said one traveler to another, "I have come a great distance to listen to the words of the Teacher, but I find his words quite ordinary."


"Don't listen to his words. Listen to his message."


"How does one do that?"


"Take hold of a sentence that he says. Shake it well till all the words drop off. What is left will set your heart on fire."
Set your heart on fire this week through prayer.
How have you used breath prayers in your spiritual walk?