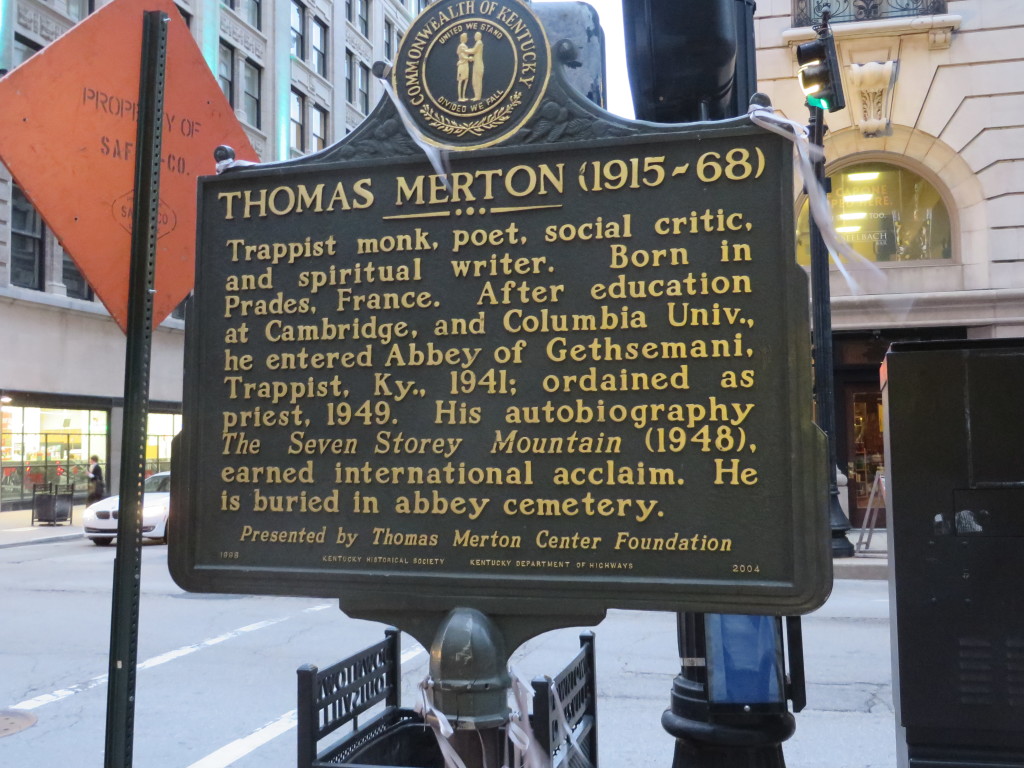 Spiritual Directors International hosts a once a year conference. I was blessed to be able to attend this year for the event held in Louisville Kentucky. This year was extra special as the group was celebrating their 25th anniversary and the 100th anniversary of Thomas Merton's birth.
I felt like a treasure hunter for three days, seeking and finding wonderful gifts. Like a find banquet where I could feast. A soothing spa for my soul. Here are just a few of my notes:
I walked a few blocks from the hotel to the busy intersection where Thomas Merton experienced his "epiphany" in 1958. "In Louisville, at the corner of Fourth and Walnut (now called Muhammad Ali) in the center of the shopping district, I was suddenly overwhelmed with the realization that I loved all those people that they were mine and I theirs, that we could not be aliens to one another even though we were total strangers… There is no way to telling people that they are all walking around shining like the sun."
"Discernment is the experience of faith and prayer in which a person or community thinks and interprets to understand the movement, feelings and desires of God and our hearts and where the Spirit of God is leading." Susan Rakoczy

What most delighted Merton when seeing The Seven Storey Mountain for the first time was reading through the index and beholding all who surrounded his life and who prayed him to where he was that day. Reflection by Jonathan Montaldo

"For each one of us, there is only one thing necessary: to fulfill our own destiny, according to God's will, to be what God wants us to be." Thomas Merton from No Man Is an Island.
"God is always communicating with us and God is always revealing us to ourselves." Diane Millis

Three key questions to help people make a decision on where their life is going by Father Michael Himes:
           1) Is this a source of joy?
           2) Is this something that taps into your talents and gifts—engages all of your abilities—and uses them in the fullest way possible?
           3) Is this role a genuine service to the people around you, to society at large?
"Beauty is that place where we feel most alive." Krista Tippets quoting John O' Donahue
"What is your name – who are you – and can you find a way to hear the sounds of the genuine in yourself? There are so many noises going on inside of you, so many echoes of all sorts, so much internalizing of the rumble and the traffic, the confusions, the disorders by which your environment is peopled that I wonder if you can get still enough – not quiet enough – still enough to hear rumbling up from your unique and essential idiom, the sound of the genuine in you. I don't know if you can. But this is your assignment." Howard Thurman.
"Discovering vocation does not mean scrambling toward some prize just beyond my reach but accepting the treasure of true self I already possess. Vocation does not come from a voice out there calling me to be something I am not. It comes from a voice in here calling be to be the person I was born to be, to fulfill the original selfhood given me at birth by God."

Thomas Merton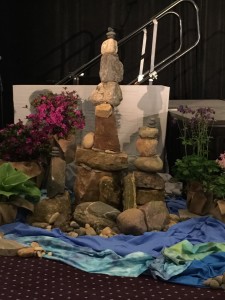 So much wisdom. Tons of food for thought and nourishment for the soul. I am grateful and blessed.
 Will close with part of a poem called For a New Beginning by John O'Donohue
Though your destination is not yet clear
You can trust the promise of this opening;
Unfurl yourself into the grace of beginning
That is at one with your life's desire.
Awaken your spirit to adventure;
Hold nothing back, learn to find ease in risk;
Soon you will be home in a new rhythm,
For your soul senses the world that awaits you.
What have you heard/learned/experienced lately that has enriched you spiritually?