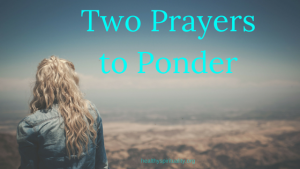 2018 is the year of prayer here on Healthy Spirituality and today I want to share with you two prayers to ponder.  Prayer is the theme for this year and we have been exploring various aspects of this practice in other posts such as Pray Slow and Seasons of Prayer. 
Sometimes slowly saying the words written by others in prayer touches our hearts and wakes our spirit. Their expressions mirror what I am experiencing and I catch myself saying, "yes! That is exactly how I feel too."
I heard each of these prayers on different podcasts and jotted them into my journal for further contemplation.
If you are curious about what podcasts stirred me in this way here they are:  Renovare and Ruth Haley Barton's Transforming Center.
The first prayer below is by Richard Foster from his book, Prayers from the Heart and reminds me to be honest and to come as I am, just me, to God. One of our greatest basic human needs is for love and acceptance and isn't it wonderful God continually opens his arms and heart to receives as us we are – his far from perfect children.
The second prayer is by the poet Rilke and spoke of my constant deep desire for God amidst the turmoil of the challenges and changes we face each day.
May these words nourish your spirit today.
A Simple Prayer
By Richard Foster
I am, O God, a jumble mass of motives.
One moment I am adoring you
And the next I'm shaking my fists at you.
I vacillate between mounting hope and deepening despair
I am full of faith and full of doubt.
I want the best for others and
Am jealous when they get it.
Even so God, I won't run from your presence.
Nor will I pretend to be what I am not.
Thank you for accepting me with all my contradictions.
Amen.
******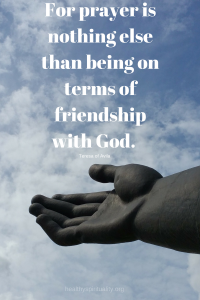 I Believe in All that has Never Yet Been Spoken.
 By Rainer Maria Rilke
I believe in all that has never yet been spoken.
I want to free what waits within me
so that what no one has dared to wish for
may for once spring clear
without my contriving.
If this is arrogant, God, forgive me,
but this is what I need to say.
May what I do flow from me like a river,
no forcing and no holding back,
the way it is with children.
Then in these swelling and ebbing currents,
these deepening tides moving out, returning,
I will sing you as no one ever has,
streaming through widening channels
into the open sea.
One more. This image called to me today in my morning prayers. I have this little statute by my desk, but right now it is next to my computer as I write this post. The image continues to cradle my heart with God's love. Just think about this: how much God loves us. He keeps his eyes on us like a mother with her baby. Eye to eye. Heart to heart. Always loving. Amazing!

How do these prayers and images speak to your spirit? What is your favorite prayer written by someone else?