What season are you in? How does your season affect your prayer life?
With 2018 being the year of prayer here on the Healthy Spirituality blog, this month we are looking at seasons of prayer and of life. In January we explore the definitions of prayer and last month discussed why we pray. Each month this year on the Tending the Holy Thursdays there will be a focus on an aspect of prayer.
On my Thursday posts, I pick one theme (or person of faith) to explore deeper. I call this series Tending the Holy Thursdays.
What is Your Season?
Seasons can be defined in different ways. This following list isn't complete, but may give you more than one way to describe where you are right now. What season are you experiencing?
Season by Age
Childhood
Teenage
Young Adult
Middle Adult
Young Older Adult
Getting Older Adult
Older Adult
Over the Hill – Ha!
Season of Life
Births/birthdays
Baptism
Confirmation
Driver's License
College
Empty Nest
Graduation
Marriage
Anniversary
Loss
Grieving
New phrases of life
Retirement
New home
Vocation
Travel
Mealtime
Building/gathering
Letting go/downsizing
Seasons of Turbulent or Changing Life Circumstances
Failure
Job change
Marital change
Death
Caregiving of loved one
Birth
Children
Grandchildren
Illness
Chronic illness
Recovering from illness or injury
Relationship issues and change in family dynamics
Conflict
Fear
Time of confusion and unknown next steps
Discernment
Spiritually rich or spiritually dry
Nature's Seasons
Spring
Summer
Fall
Winter
Delightful weather
Challenging weather
Disasters
Morning
Evening
Church Seasons
Advent
Christmas
Epiphany
Lent
Easter
Pentecost
Ordinary time
Festivals
Saints' Days
A human life has seasons much as the earth has seasons, each time with its own particular beauty and power. And gift. By focusing on springtime and summer, we have turned the natural process of life into a process of loss rather than a process of celebration and appreciation.  Life is neither linear nor stagnant. It is movement from mystery to mystery.  Just as a year includes autumn and winter, life includes death, not as an opposite but as an integral part of the way life is made.
Rachel Naomi Remen
Seasons of Prayer
I am learning to match my prayers to my season, however I defined where I find myself presently.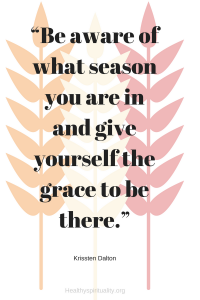 I begin with quiet time with God, asking him for wisdom and insight into my season of life.
I describe my season.
I ask myself what type of prayer best fits this time of my life. I may look on the internet for ideas or read a book on prayer. I talk with my spiritual director for ideas. I listen to God for guidance.
I explore whether a trusted prayer practice from my past would help or is this the time to try a new way of praying?
I intentionally practice praying to match my season.
What do you think? Next Thursday I will take a few of the seasons of life and offer some practices and prayer examples that may match those seasons. My goal is to have a resource for you to download by then so you can have an easy reference about the Seasons of Prayer (sorry didn't get it down this week!)
How would you describe your current season and what prayer practice would help you right now?