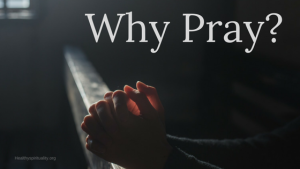 Why do you pray? Knowing why we pray deepens our prayer life and helps us hear God.
2018 is the year of prayer here on the Healthy Spirituality blog and last month we explore the definitions of prayer. Each month this year on the Tending the Holy Thursdays there will be a focus on an aspect of prayer and of course a monthly free download.
On my Thursday posts, I pick one theme (or person of faith) to explore deeper. I call this series Tending the Holy Thursdays. This month let's look at why we pray.
I am excited about this month's free download "40 Bible Verses about Prayer," You can get this resource free by clicking on the button at the end of this post. I hope these verses help you explore the many reasons why we pray.
Last Thursday we began looking at why we pray by pondering how we are both commanded to pray and called, invited to talk, and listen with God.
Why Pray – Connecting
One reason I pray is to connect with God. To unite with someone beyond myself. To deepen this sacred relationship with the Creator who amazingly wants a deeper relationship with this mere human.
I am lonely without God.
I long for God's presence.
I am missing something when I don't pause and pray.
I miss God.
I love God.
Connecting with God centers me. Grounds me. Provide a foundation from which everything else in life flows. Prayer realigns my spirit within God's spirit.
"The main purpose of prayer is not to make life easier, not to gain magical powers. But to know God. I need God more than anything I might get from God."
Phillip Yancey
Centering first with God, clears my point of view. Life does not revolve about me and my little problems and concerns. It is about God first. God first!
Yes, God cares for what is troubling my heart.
Yes, God understands my pleas for help for others.
But pray starts and dwells and ends with God.
God is the focus of prayer. God alone is why I pray.
Praying helps me focus first on God, then to see others through his heart and to discern my challenges with him, not apart from him.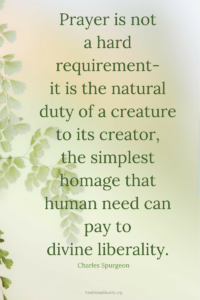 Why pray? Because I need to. I have to. I am empty, lost, disconnected without God as my center.
Why Pray – Communion
I strain toward God; God strains toward me.
I ache for God; God aches for me.
Prayer is mutual yearning, mutual straining, mutual aching.
Macrina Wiederkehr
I love the image of God as air. Around us, Within us as we breath. Life-giving. An intimacy beyond words.
Or take water – Fish swim in water. Breath in water. Survive in water. Water surrounds them, maintains them, nourishes them, and composes most of their bodies. Yet they have no concept they are even in water.
I feel like a fish most of the time.
God is around us. We breath God inward. He is life-giving. He nourishes us. And yet often we don't experience him.
The reason I pray is to experience God.
I pray because I want to be near, to be intimate, to commune with Life. And what an honor, privilege to be invited to converse with God. To breath him in. To be with him.
Each time I pause and ponder why I pray – I discover a deeper, rich meaning to prayer. My call to pray is evolving: I pray because I cannot NOT pray.
So far, we've explored that we are called, invited to come into God's presence and be with him.
God gives us clear commands in the Bible that prayer is foundational and a key spiritual practice.
Prayer centers us and connects us with God.
We commune with God. We touch his heart in prayer. We hear his heartbeat as his love pulsates within us.
What are you learning about your own reasons why you pray?