Enoch walked faithfully with God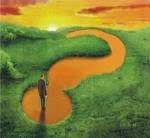 Enoch walked faithfully with God.
Lord I want to walk with You.
Side by side sharing in the present moment.
Talking
          

Enjoying our time together.
But my stride is short and I can't keep up with You.
I trip. 
I don't follow. 
I dally behind in my past or run ahead into the future.
I look around, fearful I am lost.
Yet You are there.

 

Welcoming me back to the walk.
Walk – an ordinary everyday action, yet in Your presence, becomes a way of life.
I want to move in Your direction, following each of Your steps.
I don't know where our walk will lead me, but with You as my Companion, 
I am sure wherever we go will be a grand adventure.