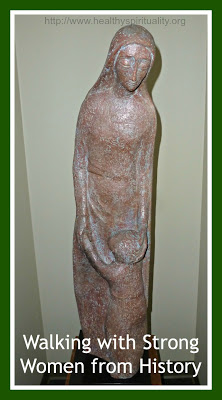 Perhaps it started with the Dorothy Day quote I read the other day
But I am ready to walk with a strong woman from our Christian history.
When I entered the program to become a spiritual director we picked someone to study. I chose, no, I believe she chose me – Dorothy Day. For two years I read her writings and other books people wrote about her. I really felt like she accompanied me on that part of my journey.
Last June on retreat, Teresa of Avila sat with me.
Therefore, since we are surrounded by such a great cloud of witnesses, let us throw off everything that hinders and the sin that so easily entangles.
And let us run with perseverance the race marked out for us.
I compiled a list of ten women that intrigue me. I want to get to know them better. Read a biography. If they wrote, study their words. Listen to them. How did they pray? How did they walk with God? What will they teach me?
I thought it would fun to get your input on which one to start with first. Here is the list of women but if you look on the left column you will see a poll. Please add your vote. I leave in a week for my silent retreat and will take the results with me and offer them to God for direction too. Better include Him in my discernment, right? Ha!
I am open if you think someone else should be on the list.You could add that name in the comments. 
I appreciate your input into my new adventure.
What women from history have influenced your spiritual walk?