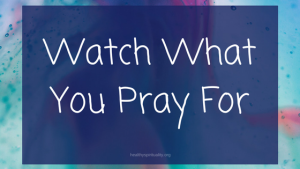 "Watch what you pray for" has been an expression that usually brings a smile of recognition to my face. I nod at its word of caution and crawl back into my safe arena of known predictability.
God listens. Be careful, he loves to answer the prayers of his children.
"Be careful what you pray for. You just might get it."
– Anonymous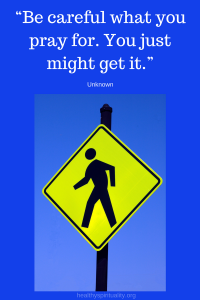 Praying can be dangerous business when you trust God and take those steps out of your comfort zone. I enter into prayer wanting the answer to be safe, easy, and clear.  I may as well pray: "just fix the problem, Lord. Of course, on MY terms."
But God doesn't work that way. We come into his presence, tell him our concerns, needs and desires, release them into his hands. He walks with us on this human journey providing times to learn, to be transformed, and to serve.
I know this all too well and right now I'm not smiling pleasantly at power of prayer. I've taken the risk this summer and ventured into new risky prayers. God is answering me in surprising ways.
Praying for Bravery
I took a self-assessment a few weeks ago. You can go to this link and try it too: https://www.viacharacter.org/survey/Account/Register.  It gave me a list of 24 of my character strengths, from strong to ones that may be more challenging for me.
Confidently I am proud (be sure to read the next sentence after I admit here I am proud) the traits of spirituality, honesty, gratitude, and hope were listed first. But it was those at the bottom that choked my confidence and made me stop and think: humility (see I told you!), prudence (being careful with one's choices – funny since I am munching on chocolate as I write this) and in last place? Bravery.
I pondered, prayed, and circled around gingerly the word "bravery."
I then asked God for bravery. To speak up with boldness. To reach out and enter into the unknown, knowing he was by my side.
Watch what you pray for. Within days I faced several incidences and opportunities arose. I paused. Took a deep breath. Asked for courage and said yes.
"You gain strength, courage, and confidence by every experience in which you really stop to look fear in the face. You are able to say to yourself, 'I have lived through this horror. I can take the next thing that comes along.' You must do the thing you think you cannot do."
Eleanor Roosevelt
Prayer to Obey In Loving All, Even those Different from Me
I love Lisa Burgess's blog. http://www.lisanotes.com/.  I read every word of her posts and love how I learn something new each time.
A few weeks ago, her challenging words were called Color Blind: Us vs. Them.
Her words cut into my heart and mind. I live in a very white world, non-diverse on all levels. I prayed for more diversity and the chance to grow in my knowledge and love of those different from me.
Watch what you pray for. Three new experiences rapidly appeared – time to try new culture rich in a religion unlike my own, meeting a new friend of a different race, and spending time with a family from Puerto Rico. So far only one of the three have occurred and was a delightful time. I am looking forward to expanding my world and anticipating what new opportunities God will bring my way.
Praying for Opportunity
Asking for bravery and stepping out into diversity, I boldly prayed to do be God's servant and go where he called.
As in the movie Evan Almighty, God listens when we pray for opportunities. They just may arrive looking different than we expect. Here is the clip I am referring to:
God, being played by Morgan Freeman, says:
If you ask for patience, does God give you patience, or does He give you opportunities to be patient?
If you ask for courage, does God give you courage, or does He give you opportunities to be courageous?
If you ask for a close family, does God zap you with warm, fuzzy feelings, or does He give you opportunities to love each other?
God is showering me with surprising new twists to this life journey. Remember the story I shared about the Tandem Bike Ride with Jesus? You can read it here: https://healthyspirituality.org/a-bike-ride-with-god-a-new-adventure/
Here is the line that fits this topic of watch what you pray for and matches how I feel right now as he answered this prayer:
But when He took the lead, He knew delightful long cuts, up mountains, and through rocky places and at break-through speeds; it was all I could do to hang on! Even though it often looked like madness, He said, "Pedal!"
God is taking me, blessing me, and inviting me to step bravely onward in faith in both my speaking and writing ministry and my ministry within the church. He is moving quickly and I told my hubby the other day I feel like I've been thrown into a fast-moving current, being pushed downstream in the rapids. I don't know where either path is heading and I am sure the trip will involve "rocky places," but with God in the lead, I plan to enjoy the ride and trust he will keep my head above the water.
You pray for rain, you gotta deal with the mud too. That's a part of it.
Denzel Washington
Watch what you pray usually is said and is received as a warning. Maybe instead it is a spiritual practice. Try saying these word with a different tone of voice. The meaning transforms more like "watch what happens when you pray."
Watch, observe, take in, fully embrace and enjoy your prayers.
Watch what God will do with an open, willing spirit.
Pray honest desires and needs and release them to the Lord with palms upward, not clenched in fear.
Watch what you pray for and see God in action in your life.
Watch what you pray for and your life will take surprising, wonderful, crazy turns and twirls with God.
Where have you sensed God moving in your life lately? Let's talk about taking a risk with our prayers.