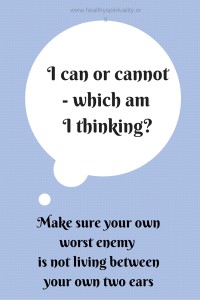 Do you ever listen to what you are saying? Do you watch your language?
Being a spiritual director I have the honor to intently listen to others as they share their deepest desires and prayers. Often as they speak words aloud – they hear themselves say things that never realized before or use a word or phrase to describe something that surprises them. We are all deaf and blind to our own tone of voice and the words we tell our soul.
Watching our language can be a powerful and insightful spiritual practice.
I have been listening to podcasts as I walk and last week Michael Hyatt spoke about this exact topic in his topic of "Why it is time for you to stop trying." His point was this "If someone says they'll try to do something, it's a safe bet they won't accomplish it."
He shares a demonstration he witnessed by Tony Robbins.
"What he does is he has this woman in the audience. She's saying that she has tried everything in her marriage.
He says, "Really? You've tried?"
She says, "Oh yeah, I've tried. I've tried all kinds of things."
He says, "Okay, see that chair sitting beside you? I want you to try to pick it up." So she grabs it and picks it up.
He says, "No, no, no. I said try to pick it up. You picked it up. Put it back down." She kind of looks confused. She doesn't know what to do, so she just stands there. He says, "Now you're not picking it up. I asked you to try to pick it up."
She's kind of confused. She's looking around at the crowd. Everybody is kind of confused.
She grabs the chair and picks it up, and he says, "You picked it up. I asked you to try to pick it up. Put it back down."
So she stares at it for a while, and he goes back through the same thing.
"Now you're not picking it up.
He makes a distinction that you either pick it up or you don't pick it up. There's no such thing as trying." 
When we spin our wheels with trying, we do get frustrated and confused. Interesting twist of a word, isn't it?
Michael Hyatt says later in the interview:
"When the word comes out of our mouth, it's like the first indication of what we've been thinking. Our thoughts create our reality, and our words create our reality. So to eliminate the word try from our vocabulary is the first step. Whenever I catch myself saying that, I back up, because it's a worthless word. It accomplishes nothing. As you said, it leaves us a back door or an excuse for not achieving something."
Our words are powerful. The words we say have an impact and shape our behavior.
We can be quite mean to ourselves at times.
"Should have guessed you would have messed that up."
"Why can't you do better?"
"There you go again…"
"You are so fat/stupid/worthless…"
When I hear myself say the negative phrases out loud – the words shock me. I wouldn't be that rude to others. Would we say these things to God? To another of God's children? I wonder how it makes God feel when we are so negative?
Hearing Michael Hyatt's podcast I realized even less nasty and unkind words still carry a punch into my spirit. As Yoda said in the Star Wars movie:
"No. Try not. Do or do not. There is no try."
Chalene Johnson encourages us to list the common negative phrases we tell ourselves and then rewrite them as positive affirmations. Save them as screen savers or post them on the refrigerator.
"I am a person who makes mistakes, but will learn from them."
"I can do this even though it is difficult."
"I won't just try; I will do and get it done."
Self-talk is the never ending mental chatter where we narrate what is happening in our lives. Brain researchers found it is a real function of the brain as it processes information and makes decisions and they estimate 75% of all self-talk is negative. Since much of it is on auto-pilot, we never are aware of it.
And that is the first step – become aware of what you are saying to this precious fragile God-given spirit.
Gracious words are like a honeycomb, sweetness to the soul and health to the body.
Proverbs 16:24
Watch your language will be my catchphrase of this week. Join me?