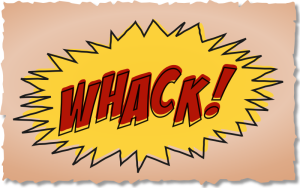 What a great start to the morning -on my second cup of coffee, checking the third item off my to-do list, and accomplishing numerous jobs. I was a multitasking fiend, zipping along like a road runner.
WHACK! Hitting myself on the side of the head I said out loud, "I forgot to pray this morning."
Each morning I try to start my day with the Lord. I sit quietly and praise him. I lift up my prayer concerns for family and friends and I read a devotional. Often I also journal where I feel God is leading me on my journey.
Sounds nice, doesn't it? But to be honest too often I dive into my day without first honoring God.
WHACK!
Do you watch NCIS? This favorite television show of mine shows the main character, Gibbs, occasionally slapping Dinozzo, another agent, on the back of the head -a mild, loving head slap to redirect Dinozzo's attention back to where it belongs. Gibbs administers tough love on his agents.
WHACK!
As soon as I realized I forgot God, I quit all the important, urgent items in front of me and closed my eyes in prayer.
Thank you Lord for being a "gentle whack on the side of head kind of God." I am so sorry for not putting you first, not just this morning, but all the time. Thank you for nudging me back into your arms and welcoming me there. Like the father in the story of the prodigal son, you wait and run out to greet the one who was lost. You not only wait, you celebrate when we return to you. I can not even imagine the depth of your love. You wait for me while I run around madly pursuing what I think is more important than you. Then you gently remind me, redirect my attention back to you. You are love, tough love, but love all the same. Help me to remember you.
I am grateful for a welcoming God.
I am thankful for a waiting God.
I am in awe of our wonderful God who occasionally is also a "gentle whack on the side of head type of God."
(This is a repeat of a post I wrote in 2009. I am traveling right now and chose some oldies but goodies to share this week. I hope you enjoy them! You are more than welcomed to leave a comment or insight to share but I won't be responding right away to your words of wisdom.  I promise I will once I get home. Thanks!)