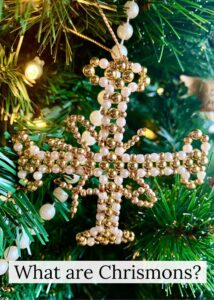 What are Chrismons?
Chrismons are Christmas decorations styled with Christian symbols. These ornaments remind us of the true meaning of Christmas – the celebration of Jesus's birthday.
Chrismon is a combination of two words Christ and monogram, meaning symbol. This idea was created by Frances Kipps Spencer for her church in Danville Virginia in 1957. The idea quickly spread to other churches and homes.
Colors used in their creation are traditionally white and gold. White is the liturgical (or Church) color for Christmas and symbolizes that Jesus was pure and perfect. Gold symbolizes His Majesty and Glory. Ornaments can be made from nearly anything, but paper and embroidered ones are the most widely used.
Symbols include various crosses, anchors, crowns, Alpha and Omega Greek letters, fish, and stars.  Here are a few found on the tree at my church this year: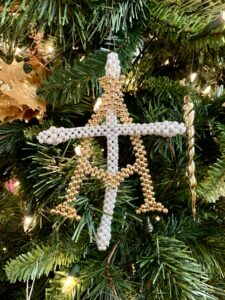 Here are a few resources for you if you want to make some for your use:  Chrismon patterns, Chrismons meaning and patterns, and Chrismon basics books to purchase.
I created a few for my home tree from Styrofoam and purchases others. I like adding the meaning and focus to remind me and to witness to others about Christ. Here is link to a blog post I wrote previously about the tradition of Christmas tree ornaments.
Do you use Chrismons on your tree? What is your favorite Christmas ornament?