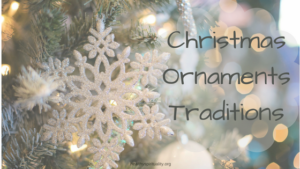 The tradition of putting Christmas ornaments on our tree each year brings back memories and smiles, creates a bright, seasonal ambiance to the room and tells the story of our faith, family and life journey through displaying family heirlooms and cherished collectibles.
This month I have been exploring different themes of Advent and traditions with Christmas to help prepare our hearts for celebration of the birth of Christ.  Something as simple as Christmas ornaments enriches our holiday and deepens our Christmas experience.
Christmas ornaments provide several moments of connecting with our memories and generating a holiday spirit – as we unwrapped them and put them on the tree, as we watch them in the twinkling lights and tell others the stories behind the décor and as we gently wrapped them into safe keeping for another year.
The History of the Christmas Ornament
Bringing inside an evergreen this time of year began in Germany in the 15th and 16th centuries.  Often these trees were decorated with apples and nuts, then later with gingerbread cookies and pastries cut into shapes of stars, angels and hearts.
In early America, families would string long strands of cranberries or popcorn to decorate their trees. In Britain, lace and delicate paper ornaments were hung on the branches.
By the 1800s ornaments grew in popularity. It is said that the five and dime store, F. W. Woolworth didn't want to even stock any ornaments at first but by 1890 was selling more than $25 million worth each year. 
The main style of ornaments at this time was the German hand blown glass and hand cast leaded decorations. Tinsels was also used on trees about this time.
It wasn't until 1973 that Hallmark introduced its "Keepsake Ornaments" and began a new generation of collectables.  Since then more than 8000 different Keepsake Ornaments have been released.
Here is a great article about the history of the Christmas ornament.
http://www.craftypod.com/2007/12/20/a-brief-history-of-christmas-ornaments
Types of Christmas Ornaments
What do you hang on your tree?  I would love to hear your stories and categories of ornaments you use. Some people try different themes each year or decorate multiple trees. Others keep a simple small tree with only a few family keepsakes that they enjoy each year.
A good tip is to date your ornaments as you add them to your collections. I am always amazed how swiftly time passes and seeing these dates each year grounds us and brings appreciation of the sacredness of time passages.  
Here are a few of the general types of collections on my tree this year:
Trips – As we vacation we always try to find an ornament to remember the trip. I counted more than 20 of these on our tree this year and all made me smile. Even finding one of shorter, close to home trips brings back warm memories.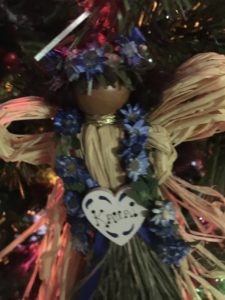 Family Heirlooms – I have some handmade sequin ornaments made by my mom more than 40 years ago. Another fun ornament is the handmade ones with photos of my grandkids.  Amazing to see how they grow each year.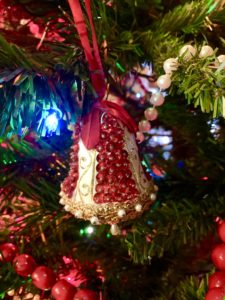 My family tradition is mini wooden shoes.  In the 1930's my dad visited Holland and brought home a small set of shoes that each year decorated our tree.  Over the years two more pairs of shoes were added. When my kids were born, we added shoes with their names and birth year added and now give a set to each of the grandkids on their first Christmas. I ordered these mini shoes from Holland Michigan at this site: Dutch Novelties.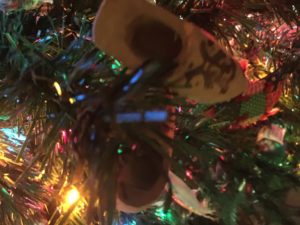 Gifts – Holding that special ornament given to you by a loved one is a sacred moment.  Many godparents give their godchild a new ornament each year.  Does someone you love have a special interest or quirk?  I saw this grumpy cat ornament the other day – a perfect gift for our pastor who loves that character; 
Sports or sports teams works well too as we have Cincinnati Bengals and The Ohio State Buckeyes adorning our tree.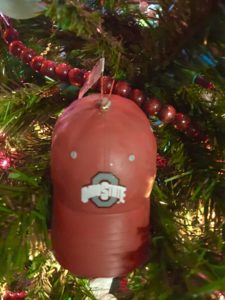 Chrismons – Chismons are Christians symbols telling a story of our faith. Our tree at church is full of the different styles and I have begun getting a few for our tree at home.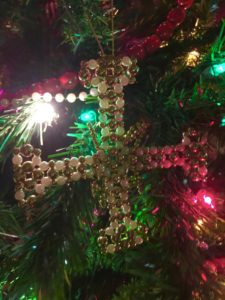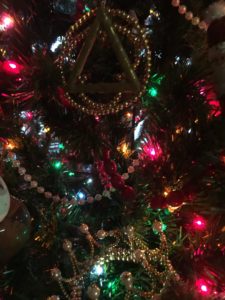 Chrismons are traditional white and gold and each one comes with a story of what they represents. Crosses, doves, shepherd hooks and pelicans provide wonderful glimpses into the good news about Jesus. 
Here is great website to learn more about them; http://www.whychristmas.com/customs/chrismons.shtml
Reference books are also available, many in a series such as this one:
Christmas ornaments bring delight to the season, warm our hearts and create a space both within and about us to welcome Christmas.
What's your family tradition and/or favorite ornament?
I created a free Advent Resource guide. You can download it here: https://healthyspirituality.org/advent
And you may be interested in my Christmas book, Christmas Seasonings, 101 Quotes and Prayers to Flavor the Holiday.  And I would love, if you read it, to leave a review.
Thanks so much.