What are the Best Decisions You Made in Your Life?

What are the best decisions you made in your life?
Interesting question to ponder, isn't it?  What a great question to pray about and hold in your heart as part of living a reflective life.
Last week I was getting ready in the bathroom. Of course putting on some make-up is part of my morning routine and as I peered into the mirror, I noticed two tiny vertical lines between my eyebrows.  No, I wasn't upset; I was happy. Those barely noticeable indents used to be deeper, wider crevices, packed with stress, worry and demands. I remember when I worked fulltime in a job that used to fit me well, but was no longer right for me, the furrows on my forehead deepened.
But now I had less wrinkles! Ten years later – Then I acknowledged I am healthier now too. I weigh less. I exercise more. I am at peace.  Then this popped out of my mouth, out loud so my heart could hear it.
"Retiring early was one of the best decisions I ever made!"
I began to wonder what were the other best decisions I made in life.  Below are some answers that bubbled up and I invite you to sit with this question too and see what happens.
The best decisions I ever made in my life
Committing to God – Surrendering my life to God, opening my heart to his voice, guidance and love. I am amazed how he has shaped me and continues to do so. I am so honored to be called a beloved child of God and sit at his feet learning and listening. Thank you Lord for walking with me, for hope, for wisdom and for love.
Marrying Bill – This guy is reliable, lovable, fun and I am so happy to be his partner in life. My foundation. I married my friend.
Having children – To be honest when we first got married, in the age of hippies, " a horrible world to bring kids into", birth control, and new opportunity for women – we discussed never having kids. Changing our minds changed our lives tremendously and we loved it (well, most of the time). What a privilege it is to watch a child grow and I am so proud of the wonderful adults my kids have grown into.
Fostering lifelong friendships – keeping in contact with special friends takes effort and often we just get too busy to make the time to get together. I am so blessed to still talk with and be with friends from 6th grade, college, and adult life. You are priceless to me!
As mentioned above. Retiring early has to be on this list of best decisions I have ever made. I loved my work at the health department and nursing is a calling to me from God. But it was like the clothes no longer fit me. I was ready for a new adventure. God called me into a ministry of speaking and writing, spiritual direction and retreat leading and now as an Associate in Ministry at my church.  I had no idea in 2006 when I retired that so many doors would open for me. I just trusted God.
Bill and I decided early in our marriage to live a life without regrets. We had been married about three years when my brother serving in the Army was stationed in Germany. Come over, he invited. But we never did. We stayed close to home looking for new jobs and got busy with life. Then he was back home and we missed a wonderful opportunity. We made the commitment to each other right at that moment to not have regrets. That became a key element in all our decision making, along with God's direction and all the other factors that weigh into discernment. Will this be something we may later regret not doing?
God called and I answered. There have been moments in my life I knew with all certainty that a specific next step had God's fingerprints all over it. My original decision to take the job a health commissioner – God first said wait and I did. Then he said go and I did. When he called me into the rostered lay ministry work, I didn't want to go. He called. I wrestled and argued. We compromised (HA HA! Can you ever really bargain with God?)  I told him I would take the first step and see…,I finished the program and then nothing happened. Then two years later the perfect opportunity arrived unexpectedly all in God's timing.  I guess God does know what he is doing.    Each time I discern a call from God – on big steps or little acts of kindness – I hear his voice better. And most of the time I took one tiny step without knowing where it was leading. 
I have decided to not allow fear rule my heart. It has taken me most of my adult life to recognize how often fear swirls in my heart and stirs up anxiety within me. I am now much more aware of its lies and power. I have learned that fear is a natural response from my lower more primitive brain and will keep occurring as part of the protective mechanism in human nature and ego. At times I do need to listen to its voice as fear can be right on and I do need to be careful. But most of the time I say "hello friend fear. I know you are with me today. Just go sit in the back set while I let God drive the car."  One of the best decisions I ever made is to befriend my darker, negative side as part of my being, my experience in life but not allow it to direct my living. I used to think something was wrong with me – now I know I am just a mere human full of conflicting emotions but a deep desire to keep her eyes on Christ.
I am so blessed to have decided in life to commit to discovering and exploring an inner life. My interiority. My soul as it was created by God. Taking the time to journal, to slow down to be with God, to go on retreat. For doing the hard work of peeling off layers of ego, of other people's name calling and negativity, of the world's noise, expectations and lies – to be with God just as I am – loved. Inner work is hard. Often I feel vulnerable. But I always find God who welcomes me as his child, dusts me off, cleanses me of the dirt packed on my heart and takes delight that we are together. To know we are a beloved child of God – wow- what a blessing.
I love being a lifelong learner. I decided to be an adult reader, listener to podcast, explore of new ideas. Allowing my curiosity and imagination to live free ranks as one of the best decisions for me.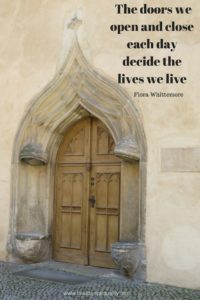 The practice of chewing on a particular question like this one is a great tool in living a reflective life.  I noticed looking back when I made most of these decisions, I didn't comprehend the full impact of them across a lifespan. But sitting with this question revealed their legacy and influence in my life. 
Choices are the hinges of destiny. ~Edwin Markham
What are the best decisions you made in your life?
P.S. I love giving you a surprise extra to these posts.  I created a Worksheet of Journaling and Prayer Prompts surrounding the question: What is the best decision I made in my life?  You can download it for free by clicking the button below.
  Click Here to get the worksheet
And don't forget to subscribe to Healthy Spirituality in the sidebar, share this on social media with your friends and stay connected as we all walk together on this spiritual journey.  Blessings!