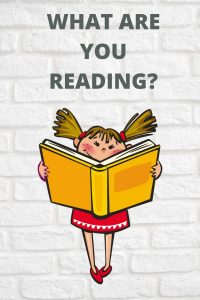 What are you reading right now?
I am normally a nonfiction reader so this will surprise those of you who know me – I actually read and finished a fiction book this past week.  I also enjoy several nonfiction ones in my improved practice of making the time for self-care in reading.  This was one of my goals for 2020. 
The spiritual practice of reading feeds the mind and the heart. New ideas stretch our imagination and shape our faith. I love opening my eyes to see the world in new ways, in God's way.
What am I reading?
The Book Woman of Troublesome Creek by Kim Michelle Richardson.
This is the fiction book I mentioned above. I did enjoy the story and couldn't put it down once I get started. Based on historical facts about in the 1930s in Kentucky where women rode mules or horses to deliver books and reading material into the hills of Appalachia – of course, anything doing with books appealed to me. The main character is a traveling librarian, part of Roosevelt's Kentucky Pack Horse Library Project.
One other interesting historical fact in this book is the story of the blue-skinned people in Kentucky, an extended family whose skin tone was blue, stemming from a recessive gene disorder.
I like books with a strong woman character who shows courage and strength. What I don't like is a book that is predictable about the resolution of the story. Unfortunately, this book is one I could anticipate how everything would be wrapped up at its conclusion.
God's Best During your Worst by Robin Luftig
I know the author and knew she had had a brain tumor. This is her story and how her faith and family gave her strength during such a difficult, uncertain time. What a witness.
This book also gives resources and Bible lessons for anyone facing a challenge that threatens their or their loved one's lives. Robin offers a workbook style of questions and writing space to chart your own journey. I felt as if Robin was speaking just to me as she shared her story full of real-life questions and fears with wisdom and faith. This book full of encouragement guides the reader from panic to peace and the presence of God.
We Will Feast – Rethinking Dinner, Worship and the Community of God by Kendall Vanderslice
This challenging book focuses on the value of interactions with faith over dinner and how the table becomes a place of worship. Hospitality is not one of my gifts and reading this book encouraged me to open my doors more often and enhance any opportunity around a meal.
The dinner church movement is growing, and this book gives many examples. I know a couple of local people are so excited after reading this book, they have already scheduled the author to come here later in the year.  Yes, I will attend!
This book will nourish your faith in many ways and motivate you to practice community around the table.
What are you reading?