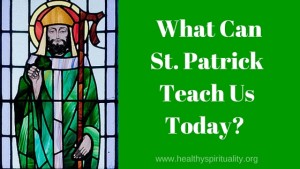 St Patrick
St. Patrick lived almost 1500 years ago and has evolved into a person of legend, tales, and green inspiration for all of us, especially on the day we honor him – March 17.   
Exploring Celtic Christianity has been the topic for this month's Tending the Holy Thursdays – a fitting subject for March and all the Irish among us. This week we are exploring St Patrick's life and what can he teach us today.
God Shapes Us Through Prayer Even When We Can't See Our Path
St. Patrick was born in England, possibly Scotland, in the late 4th century and as a teenager was kidnapped by pirates and taken as a slave into Ireland to be a shepherd. He remained in captivity for 6 long years. During this time Patrick converted to Christianity and through prayer became deeply devoted,
Some writings attributed to St. Patrick exist today and many scholars think they are authentic; one is called Confessio where St. Patrick writes about his time in prayer:
"The love of God and his fear grew in me more and more, as did the faith, and my soul was rosed, so that, in a single day, I have said as many as a hundred prayers and in the night, nearly the same. I prayed in the woods and on the mountain, even before dawn. I felt no hurt from the snow or ice or rain."
Lesson: Prayer gets us through the dark uncertainties of life.
All in God's Time – The Path Isn't Always Straight or Easy
Patrick escaped back to his home after having a dream where God told him to leave Ireland by walking to the coast. There sailors took him back to Britain but even getting home wasn't easy.
The boat ran into trouble and after three long days of sailing and drifting the crew along with Patrick abandoned the ship, not in England but in France.  There Patrick wandered, lost for more than a month.  Finally, he was able to get back to Britain and be reunited with his family.
Lesson: Our path may never be straight and easy even while being faithful to following what God is telling us.  Reminds me of drawing frequently seen on facebook that shows a straight progressing smooth line representing my hopes and plans. What actually happened in life is the next drawing looking something like this: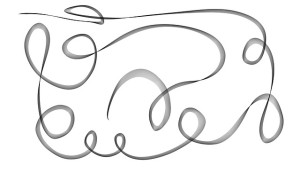 Answer the Call
Prayer transformed Patrick into a person of faith. Back home he experienced another dream and he heard the call from God. He wrote:
"I saw a man coming, as it were from Ireland. His name was Victoricus, and he carried many letters, and he gave me one of them. I read the heading: 'The Voice of the Irish.' As I began the letter, I imagined in that moment that I heard the voice of those very people who were near the wood of Foclut, which is beside the western sea-and they cried out, as with one voice: 'We appeal to you, holy servant boy, to come and walk among us.'"
What? Return to Ireland – the heathen place that held him prisoner for 6 years? Once again he turned to prayer and knowing the voice of God so well, soon knew his direction in life. This vision motivated him to begin studies to become a priest.  Another unexpected turn in life.
Patrick knew he would return to Ireland as a priest. Later he became a bishop and was sent to Ireland to spread the gospel.
Lesson: God certainly does surprises us with his invitations. Unexpected new roles. Startling new direction. Spending time with prayer, learning to know the voice of God will provide us light for our journey and strength to answer his call.
Use What We Have Been Given
Once again Patrick experienced difficult times. Following God isn't always easy. Patrick was initially met with resistance, but managed to spread Christian teaching throughout Ireland for 40 years.  He laid the groundwork for Christianity in Ireland and planted more than 300 churches.
Knowing the people like he did from his time there as a slave, he knew how to reach them using what they were familiar with and incorporating their rituals and practices already filled with meaning for them. For example, legend tells he used shamrocks to explain the Trinity.  Even today, the Irish wear the shamrock as a symbol of the cross.
Lesson: To reach others with God's message, use what language and symbols they already know. Look what is around us and use everyday, not complicated fancy words and explanations. Jesus used the images of bread, wine, and water.  Keep it simple.

Couple of years ago I wrote more about St. Patrick in this post called, St Patrick – Bio, Trivia and a few Blarney Quotes
Fitting to end with one of St Patrick's most well known poems called the Breastplate. Remember a breastplate is a piece of armor worn into battle.  We could use this prayer everyday to guard our path. I read different translations of its words and much longer versions but here is just part of the ending:
Christ with me,

Christ before me,

Christ behind me,

Christ in me,

Christ beneath me,

Christ above me,

Christ on my right,

Christ on my left,

Christ when I lie down,

Christ when I sit down,

Christ when I arise,

Christ in the heart of every man who thinks of me,

Christ in the mouth of everyone who speaks of me,

Christ in every eye that sees me,

Christ in every ear that hears me.
I created a free "10 Celtic Blessings for your Journey" pdf for you to enjoy and share Irish blessings with others.  Just click below to receive your free copy.
Click Here to Get the 10 Celtic Blessings PDF
What has St Patrick taught you?