I love non-fiction.  I know that puts me in the minority, but give me a good book full of fascinating info and I am a goner. Here are three good ones I devoured in August: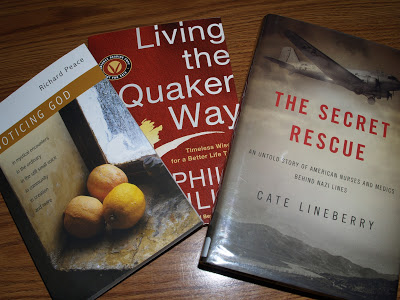 In Gulley's latest book he explains some of the key beliefs in the Quaker faith. These pillars are simplicity, peace, integrity, community and equality. I really enjoyed this easy to read peek into a faith I really didn't know much about.
On Simplicity he writes:  "What is needed is a new measure of success, for it is clear the further acquisition of good is not only unsustainable but also ultimately unsatisfying."
With quotes like this and the included questions in the back of the book, this would be a great topic to study in a small group or Sunday School class interested in learning more about Quakers.  Not only will you learn more, you will have lots of material to ponder and discuss.
By the way, this book isn't officially released until Sept. 17. For more information and to read a sample chapter, click here.
Don't you just love discovering a true story full of adventure and courage that you never heard of before? In my writer's heart I would love to find that magical story and bring it to life.
Cate Lineberry has done just that.
The Secret Rescue is the forgotten story of American nurses and medics who crash land in a plane behind Nazi lines in WW II.  They wander for months over rugged mountain terrain during a severe winter in order to escape.  They face life threatening attacks and conditions beyond our imagination.
The story will restore your faith in ordinary people rising above their circumstances and the hope found in others, perfect strangers, risking their own lives to save them.
It is a great story of courage and survival.
Ever have a book that you highlight so much you could have colored every word?  Noticing God is that book for me.
This book explores ways to experience God in sudden mystical ways and in ordinary daily living. Peace calls this the spiritual discipline of noticing God.
"God's presence pervades our world. God is not in hiding. The problem is with us. We don't know where to look or what to expect…We need to learn to notice."
This is another good book for small group discussion. Questions are included in the back of the book too.
What have you been reading lately?