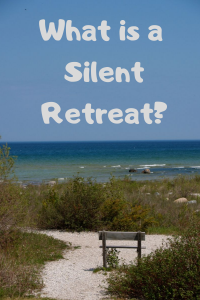 What is a silent retreat?
I mentioned on several social media posts about the silent retreat I attended earlier in August.  I was amazed at the questions about this type of spending time with God.  The interest in the deepening of our relationship with our Creator is growing and I am finding more people curious about what this practice may bring to their spiritual journey.
Going on retreat is an essential spiritual discipline for me. Time for silence and learning informs the mind and forms the spirit. I leave refreshed, renewed, transformed – not quite the same as I arrived.
What is a Silent Retreat?
Mother Teresa said, "We need to find God, and he cannot be found in noise and restlessness. God is the friend of silence. See how nature – trees, flowers, grass – grows in silence; see the stars, the moon and the sun, how they move in silence. We need silence to be able to touch souls."
A spiritual retreat is an opportunity to slow down to spend time with God. Leaving behind the routine everyday life, retreats can be a vacation with God. We explore, we learn new things, we experience the world differently. We see ourselves in a new light. We talk and listen deeply. We leave refreshed and ready to reenter the world.
A retreat is simply time away with God. A break from routine. Getting out of your normal rut and finding a quiet time and place to slow down with God. You create space in your calendar, your surroundings, and in your heart for God.
Jesus frequently took the time for prayer with his father. What a powerful discipline to cultivate that models Jesus.
One of those days Jesus went out to a mountainside to pray and spent the night praying to God.
Luke 6: 12
A silent retreat is yes, more silent that hearing presentations and doing things – it is a time to sit in God's presence, loving him, being loved and listening.
Most of my silent retreats have lasted 4-8 days with group sizes ranging from 6-20 people. I am amazed each time how a sense of community forms even in silence.
The first night we do talk, get to know each other often over dinner.  Then as a group, we share briefly our desire, hope, intention for this time in quiet. Most retreats you are assigned to a spiritual director and set up a once a day one-hour meeting with him/her.  Then we enter the silence.
I find it usually takes me a full 24 hours to settle in and am impatient for the outside noise and the internal chatter to hush.  But I have learned I can't rush the silence – it takes its time to slow down my heart and mind.  I find I sense I "enter", cross a threshold into a very quiet peace once silence fully enfolds my being.
Introverts and Extroverts
Do introverts crave retreats more than extraverts?  Introverts draw their renewing energy from silence and stillness. They crave time alone, away from people, noise, and craziness, conflicting demands.
As an introvert, I can tell when I haven't been on a retreat for a while. I feel more restless, less focused.  I yearn to reconnect with God on a deeper level that I can't find in the routines of everyday life. I sense an invitation to draw nearer to him in silence and that it is time to attend to my soul. I now intentionally plan to attend a multi-day silent retreat at least on a yearly basis as part of my practice.
Extroverts grow more with interactions with others. Take heart, Extroverts – retreats can also be for you. On my last retreat two of us took a walk together and did some slow-talking with one another.  She was an extrovert and needed to connect.  We didn't get punished – ha-ha – so there aren't hard rules about occasionally talking.
But all personalities types can learn from various kinds of retreats. Withdrawing for a time of gathering thoughts together, hearing God in new ways, and flourishing in a safe and restful space far from the craziness of the world is a practice not quite like any other.
The Benefits of a Silent Retreat
"Times of extended retreat gives us a chance to come home to ourselves in God's presence and to bring the realities of our life to God in utter privacy. This is important for us and for those we serve…
On retreat, we rest in God and wait on him to do what is needed. Eventually, we return to the battle with fresh energy and keener insight."
Ruth Haley Barton
Retreats create the space to be with God. To hear him in new and deeper ways. To discern the next step.
We often see a new perspective of our lives, an experience, a memory when we enter into a change of place routine and reduction of noise levels.
The best retreats for me are a blend of nutrition for my heart and mind. I love the combination of time to read or listen to a mixed with some type to rest, reflect, and journal.
I come away with an improved sense of God at the center of my life.  I leave feeling balanced and energized.  Remember the old dials we had on the radio?  Sometimes we had to move them just slightly in order to hear the voice clearer and without interference. Retreats reset our internal dial to hear God better.
To be honest, the only reason I experienced my very silent retreat was that it was a class requirement for my spiritual direction course. But I continue now with them because of the time of slowing down with God nourishes like no other practice.
You will discover your own reasons to attend a retreat and they may evolve over time. Be open. Pray. Listen.
We are people who love excuses. We create our own excuses at times and may not even realize it. To be honest it isn't easy to go on a retreat.
We don't have the time. How will the family manage? Work won't exist without me. The world will crash if I go. Will other people judge us as holier than thou?
You may have mixed feelings about going. Be anxious about what will happen. Often we worry what if nothing happens.
But trust God. He desires to be with you – to deepen his relationship with you. To spend time with you.  You are his delight!  And it gives him pleasure just to be with you.
I wrote more about retreats here on this post and am glad to answer any questions anyone has.
I also wrote a book about retreats, available on Amazon: Spiritual Retreats – A Guide to Slowing Down to be with God.
Have you been on a silent retreat? Tell us about that experience. How does the practice of silence enrich your time with God?