"Forgetting what lies behind
and straining forward to what lies ahead,
I press on towards the goal
for the prize of the heavenly call of God in Christ Jesus."
Philippians 3: 13b-14.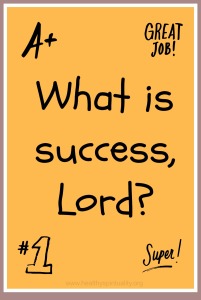 What is success, Lord?
You know I struggle with this concept.
I drive toward accomplishment.
To reach favorable outcomes that feed my ego.
Getting things done and crossed off some eternal list of to do's.
I see success in completion and achievement, not in you, Lord.
Crossing the finish line without you won't ever happen.
I am incomplete without you, Lord.
Please forgive me.
I seem deeply wired towards my motivation, but want to renovate this desire.
I turn over to you my heart, my goals, my purpose.
I surrender my entire self into your hands, forgetting what lies behind me and turning forward only towards you.
You are my aim.
You are my goal.
You are my very reason to breath,
    to write,
         to live.
My relationship with you is my finish line.
Success is more of being than of doing,
Of connecting than achieving,
Of humbleness and smallness more than triumphant glory for myself.
Living with true Life, not striving with deceptive expectations.
Life is a process, Lord and I press forward only to you.
You and only you.