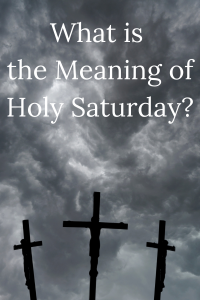 Holy Saturday waits.
During Holy Week, we parade and cheer Jesus onward as he entered Jerusalem on Palm Sunday. We broke bread and drank wine on Maundy Thursday.  We stood at the edges in disbelief and grief as he died on the cross on Friday.
According to the gospel writers, Jesus died at three o'clock in the afternoon. The Jewish sabbath began at six. This meant for the family and friends of Jesus, time was not on their side. The clock was ticking, and the body of Jesus needed to be buried quickly.
As evening approached, there came a rich man from Arimathea, named Joseph, who had himself become a disciple of Jesus. Going to Pilate, he asked for Jesus' body, and Pilate ordered that it be given to him. Joseph took the body, wrapped it in a clean linen cloth, and placed it in his own new tomb that he had cut out of the rock. He rolled a big stone in front of the entrance to the tomb and went away. (Matthew 27:57-60)
Time stood still between Jesus' death and his resurrection on Sunday morning. The day between these events holds lessons for us too, What is the meaning of Holy Saturday?
What is Holy Saturday?
When I ponder the in-between time of Holy Saturday, many words come to my mind and heart.
Silence
Doubt
Fear
Wondering
Worry
Listening
Pondering 
Waiting and praying
Unknown
Exhaustion
Expectation when will this be over? 
When would things will return to normal?
What will be forever different?
Holy Saturday mirrors much of the same emotions we all endured and continue to wrestle with during the pandemic.  Interesting, isn't it?  We collectively experienced 365+ Holy Saturdays.
A celebration of the sacrament of honest, raw doubt

that precedes the resurrection and reigniting of faith." Anonymous
The word in this quote that jumps into my heart is sacrament – I place my doubt – all of my vulnerable feelings, uncertainties, and fears into God's hands and wait.  Wait for resurrection. Wait for His spirit to reignite my faith. Wait for his coming once again to bring us home into his loving arms forever.
The second word that resonates with me is celebration. I don't think the disciples did much partying on Holy Saturday – when they hid in fear, shame and discouragement. So when I face those same emotions I too find it difficult to celebrate. But that is part of the sacrifice to God, isn't it? To come to him, honest and real, tell him my doubts and hesitations, then celebrate in the promise of Easter.
For that I am grateful. And I wait with expectation.
Easter Vigil and Holy Saturday
Do you attend the Easter vigil on Holy Saturday?
Within my parish we gather at sunset on Saturday and read the four accounts throughout the Gospels of the death and resurrection of Christ. Preparing hearts for the weight of what Easter means can be the blessing of Holy Saturday.
This service is a nocturnal watch that retains ancient roots in expectation and waiting for the resurrection. Some Orthodox traditions have celebrants exit the church, then circle it three times before re-entering. In the Roman Catholic faith, the vigil begins with an outdoor fire, lighting up the night to disperse the darkness. The fire is used to light a very large candle, a symbol of Jesus as the light of the world. The faithful then light tapers of their own from this candle.
"On Holy Saturday I do my best to live in that place, that wax-crayon place of trust and waiting. Of accepting what I cannot know. Of mourning what needs to be mourned. Of accepting what needs to be accepted. Of hoping for what seems impossible." Jerusalem Jackson Greer
Blessing of the Easter Baskets
I learned of another Holy Saturday tradition this year – the blessing of the Easter basket. A typical Eastern European Easter basket would include a variety of symbolic foods, although families can personalize to their liking.
Bacon is a symbol of the abundance of God's mercy.
Bread represents the staff of life given by God.
Butteris one of the dairy products included to celebrate the end of Lent and the richness of our salvation. The butter is often shaped into a lamb, which is symbolic of the Paschal Lamb.
Candles symbolize Jesus, the "light of the world,"
Colored eggs as well as uncolored hard-cooked eggs, indicate hope, new life, and Christ rising from his tomb.
Ham as well as other meats, symbolizes great joy and abundance in celebration of Christ's resurrection.
Sausage links are symbolic of the chains of death that were broken when Jesus rose from the dead, as well as of God's generosity.
Horseradish is a reminder of the bitterness and harshness of the Passion of Jesus, and the vinegar it is mixed with symbolizes the sour wine given to Jesus on the cross.
Salt is present to add zest to life and preserve us from corruption.
Sweets suggest the promise of eternal life or good things to come.
Lastly, the basket is covered with white linen, to symbolize the shroud in which Christ's body was wrapped.
I haven't gathered an Easter basket for a long time since the kids are now grown. This practice invites me to revisit this long held tradition as a way to honor Holy Saturday.
How about you? What does Holy Saturday stir within your soul?  How will you find meaning in this in-between time?