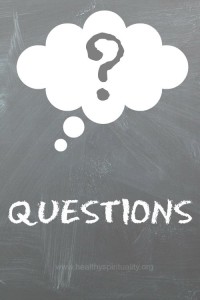 What is the most important invention ever discovered? I read the other day one answer to this intriguing idea is this: The QUESTION.
I think there is some validity to pondering the process of asking questions in our lives, our faith, and our thinking. The question is a priceless tool for growth.
Even God uses questions:
But the Lord God called to the man, and said to him, "Where are you?"
Genesis 3: 9
Where can I go from your Spirit? Or where can I flee from your presence?
Psalm 139:7
Jesus … asked his disciples, "Who do people say that I am?" … He asked them, "But who do you say that I am?"
Mark 8:27,29
Who will separate us from the love of Christ? Will hardship, or distress, or persecution, or famine, or nakedness, or peril, or sword?
Romans 8:35
I love taking questions found in the Bible and using them in my meditations and journaling. Often just one question has inspired an entire multi-day retreat for me.
Living a reflective life is a spiritual practice that grows us deeper and draws us closer to God. Questions about who I am, how do I picture God, what is God calling me to do, how do I serve others reveal insights, guide me in next steps and get me back on course.
Questions often arise too when my faith feels shallow, my trust weakens and uncertainty envelopes me. I believe God knows our doubts and understand our fears and welcomes us to enter into even intense, emotional conversations with him about our life. God is bigger than any of our questions.
We need to cultivate holy curiosity. Like a toddler or preschooler who keeps asking probing demands of – why, how, when – we come closer to our Father with an open heart ready to learn and grow.  We make it so complicated when often simply holding and exploring the question before us is all we have to do.  Live the questions, as poet Rilke wrote. Become like a child, Jesus said.
The people brought children to Jesus, hoping he might touch them. The disciples shooed them off. But Jesus was irate and let them know it: "Don't push these children away. Don't ever get between them and me.
These children are at the very center of life in the kingdom.
Mark this: Unless you accept God's kingdom in the simplicity of a child, you'll never get in."
Then, gathering the children up in his arms, he laid his hands of blessing on them.
Mark 10:13-16 (The Message)
I am grateful God created questions and then gave them to us as a gift. Don't let this marvelous tool go unused. Listen to how you use questions and allow them to bubble up and form your spiritual walk. Maybe there is one specific question brewing right now in your heart – hold it gently in your hand and allow it to simmer. Journal and pray and ask God for a question if none come to you at first.
What a neat way to enter into conversation with God! Listen to your life and you will find the Lord there waiting to show you great and marvelous wonders.
What question is leading you right now?