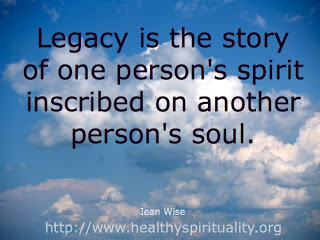 As I wrote last week, I attended Erma Bombeck Writers Workshop in Dayton. What a wonderful time of laughter, networking, new friendships, and useful knowledge.
Many of the workshops focused on social media and growing your online presence, so the topics were very current. We were inspired by the keynote presenters, all nationally recognized writers and columnists.
A special moment at each of the meals occurred when Erma's family members shared their favorite Erma column.
Erma lives on in every writer there and every reader who enjoys her words. What a legacy and gift to all of us.
Research shows that without a sense of working to create a legacy, adults lose meaning in their life. The word legacy comes from the late 14th century Latin and actually means "body or persons sent on a mission, such as ambassador or envoy." In the late 15th century in Scotland, the word began to mean the property left by will to another.
Interesting roots to this word, isn't it?  What is the message of our mission we leave behind? Legacies become priceless and special gifts passed on from one person to another, one generation to the next. The focus isn't upon the death of someone, but what they leave living one in another.
This is what I think a legacy is:
Legacy is the story of one person's spirit inscribed upon another person's soul.
Erma Bombeck gave us a legacy of laughter but so much more. Through her books, columns, video clips, and conference, we find encouragement, wisdom and a strong bond among friends.
Here are five lessons I learned at the conference last week:
1. Our words create strong and deep connections with others.What we say and do touches people's hearts. Maybe the result is simply a smile, but could also change or save a life. Words are priceless and powerful tools of encouragement.
2. Failure is an opportunity to grow and learn. Erma said, "You fail a lot more that you succeed, and how you handle it determines whether or not you become a writer." Life produces many possibilities and if you want to life a full life, you have to take hold of a few risks and ride along for its adventure. If you fall off, pick yourself back up and try again.  Live a life with tenacity and grit.
3.  Believe in yourself and develop the voice within you. Many presenters talked about our writers' voice and even for non-writers, finding and expressing our true self is a life long journey.
4. "Great dreams… never even get out of the box. It takes an uncommon amount of guts to put your dreams on the line, to hold them up and say, "How good or how bad am I?" That's where courage comes in."  A great lesson from Erma.   
She also said, " It is probably true that every person has a book in him fighting to get out. What is crucial is that if something is going to happen, the wannabe writer has to commit by putting all those hopes and dreams on the line. It's time to stop talking about clever titles and get the book written."
Ouch! I needed to have those two quotes pounded into my thick skull.  So often we let life and excuses kill our dreams.
5. Take time to laugh and enjoy this life God has given us.Spread more joy.  Let's smile, giggle, chuckle, chortle, and hoot a little bit more. Erma wrote, "In writing humor for more than thirty years, I have observed there are some people whose laughter is aerobic. It starts in the back of their throats, their cellulite starts to shake, and as their heads fall back, sound emerges from their lips that is heard in three zip codes."   
Leaving a legacy of encouragement, belief in self, guts, grit, and grins  – that is what Erma left us.
What do you think are great elements in a legacy?