"God does not come to us offering rules; God comes offering relationship."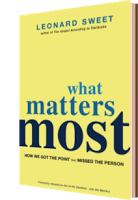 What Matters Most: How We Got the Point but Missed the Person is a new book by Leonard Sweet. The quote above is a good summary of the message of this book: We spent more time debating the "right theology" and creating the"right rules", than building a relationship with God and with others.
I liked this book as Sweet offered new slants to the familiar story of Abraham and I appreciate his method of studying the root of words such as belief, faith, hear and obey to gain insight into their meanings. I enjoy reading a book that offers some "meat" to ponder and innovative viewpoints with stories and words that have grown familiar.
This book would be a great book for discussion in a small group. Questions are available in the back of the book and there is a web site with bonus material to add to a group's conversation.
Sweet reminds us that God's greatest desire in to love us so we can love God and others. God's greatest hope is that will we join Him in a living and growing relationship. God calls us not to spend all of our energy on defining and defending a set of beliefs, but to pursue God, the Great Pursuer of us, to know God as He knows us, and build an open, honest relationship with Him.
Some interesting quotes to think about:
"Christianity is not for 'professionals.' Christianity is meant o be lived by amateurs. Amateuris based on the Latin word amator, which means 'lover.' Christianity is meant for lovers, not experts."
"Is Christ a noun or a verb in your life? If he's a noun, you may be capable of intellectually, comprehending that the Lord is good. But only if he is both a noun and a verb are you able 'to taste and see that he Lord is good.' A verb mean Jesus is alive and active in the flesh. He is an experience and an embrace."
I received this book for free from WaterBrook Multnomah Publishing Group for this review.
What book have you read lately that brought you a new point of view or drew you closer to God?