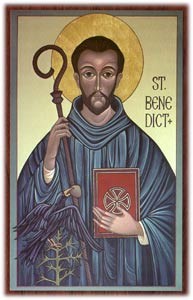 Imagine arriving at the artist studio to have your portrait painted. You would poise in a typical stance, hold your hands in your customary manner and hope the end result showed your true self.
What symbols would the artist paint around you to represent your life?
I attended a workshop last week where we explored this question. Two Benedictine sisters shared the story at St. Benedict and discussed his legacy and his Rule. They introduced his biography by showing a common artist rendition of what he may have looked like including items that described his life.
St. Benedict holds in one hand a book representing his most important contribution – The Rule of Benedict, the foundation of many religious orders' guidelines and still used today. His other hand grips a shepherd staff, symbol of his pastoral role for many who followed him.
Most portraits and statues of Benedict include a raven, sometimes with a piece of bread in the bird's mouth. Legend tells that Benedict tried to revive a group of monks known to be lax and careless. They did not want to be reformed and decided to get rid of Benedict by poisoning him. God sent a raven to snatch the poisoned bread before he could eat it and flew away with the danger in its beak.
What an interesting way to learn the story of this historical figure – by studying the art representing his life.
The sisters then had each of us reflect on our own life. "What symbols would the artist paint around you to represent your life?" Quite a question to ponder.
Here's what I chose:
I love

books

– God's word, the wisdom of other writers on spiritual journeys and the history and meaning behind various words we use. I had to be holding a book.
A

feather quill

– I love to write and am inspired by the ancient wisdom writers so my instrument to communicate needed to be an older style quill pen.
A

tree

– I have long loved the image of a tree with deep roots nourished by God and branches reaching out in praise and service. I love how the trunk connects the two ends, both nurturing and supporting each other. 
The experience of this reflection haunted me as I wonder if I am living out this legacy in my actions and behaviors. I pray I do and I hope I grow more into this image.
I encourage you to ponder this question. This reflective experience is well worth the time.
What symbols would the artist paint around you to represent your life?