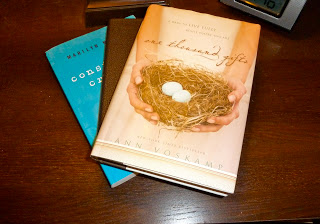 I love books and am a firm believer in "there is no such thing as too many books."
I am one of those readers with several books going at the same time. We are called "poly-readers." I think it is easier to do that with non-fiction, my usual fare.
My husband laughs at me: I have books on the living room end table, the nightstand, on my desk and in my car. And yes I have a Kindle with several books in progress there too.
I heard on NPR the Chicago Tribune cultural critic Julia Keller say:
"I mean, I like the idea of books, not just this thing off to the side of our lives, but they're right in the midst of our lives. We're, in effect, living our fiction and our nonfiction. And you can do that when you're reading multiple books. You do kind of just get this idea that you're moving through this forest of words and stories and characters. It's not just this block of paper or a Kindle or an iPad sitting at your elbow. It's a part of your life. It's something you're moving through, just like you are the days of your own life."
So what is on my nightstand right now? I have three books to share with you today, but first a quote from Francis Bacon:
"Some books are to be tasted, others to be swallowed, and some few to be chewed and digested." 
The first book here is one to be tasted; the other two are great ones to chew and digest.
   I received this book through BookSneeze in exchange for a review and was really looking forward to reading it. Marilyn is a well-known Women of Faith speaker. Like many of us, I struggled with the urge to want more in life: more stuff, better relationships, and the basic restlessness of discontent.
  While Marilyn explores all these issues and gives some appropriate Biblical references, I found the book superficial and didn't add much new knowledge to combat the longings.
  Her solution is best summarized in this quote: "There is only one answer to our craving for more meaning or more purpose in life, and that is God himself." 
   We know that, but how to do we change our hearts and apply that to our cravings? This book didn't do much to answer that question.
   Ok, I hear you – I am a year behind many of you in reading this wonderful book. Now here is writing to sink your teeth into and slowly chew on to enjoy the flavor of each word.
    I read, reread, underlined, and enjoyed so many sentences multiple times. Ann is a powerful poetic writer.
   My small group has selected her book to study beginning next month and I can't wait to dig into her writing again. Yes it was that good.
    Ann's makes any reader a believer in the practice of gratitude in all things even the smallest ordinary items like bubbles in the kitchen sink. She opens our eyes to find God in our lives even the tragic and fragile moments.
   One Thousand Gifts is destined to be a Christian classic. I highly recommend it.
   A few weeks ago I watched a TED Talk (if you are not familiar with TED talks  – there are brief informative lectures of a wide range of fascinating topics), I heard Brene Brown discuss "The Power of Vulnerability." Her talk was humorous and leaves the listener empowered. She says vulnerability is not a weakness but "our most accurate measurement of courage."
When she was done I knew I had to read her books. I downloaded on my Kindle her book on The Gifts of Imperfection and discovered another great book to digest.
"Owning our story and loving ourselves through that process is the bravest thing we will ever do."
Brown discusses what living wholeheartedly looks like. Her definition is: it is about engaging in our lives from a place of worthiness. "No matter what gets done and how much is left undone, I am enough" is her message.
She writes that the gifts of imperfection are courage, compassion, and connection. She gives the reader ten guideposts to lead our growing, such as cultivating authenticity, self-compassion and gratitude and joy.
Her book is very readable, but with deep roots to increase our awareness and understanding. She meets us where we are and encourages and empowers us to embrace ourselves as we are.
I "highlighted" many many sentences, full of wisdom in this book.
So that is what is on my nightstand. Have you read any good books lately?