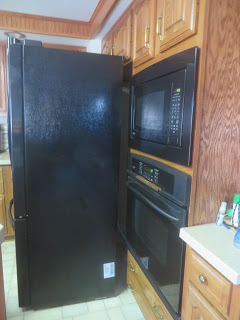 "So aggravating when just a little something holds back something big!"
Wise words from my friend Karen.

 

I whined in my email to her about my recent irritating refrigerator saga. Little did I know that an appliance would remind me of a spiritual lesson.
How Little Things Start to Grow
The quest for a new refrigerator began quite innocently with the arrival of a postcard from our local energy company. They would reimburse us $50 to remove an older power-sucking refrigerator and replace it with an energy saving one.
I wasn't happy with my present refrigerator – the ice-maker barely worked, the motor ran almost continually, and I never did like the narrow side-by-side storage. I dreamed about one of those French door styles and fancy bottom freezer.
As my hubby and I discussed making the switch, I experienced more than one moment of thankfulness – to be living in a era where electricity provided a cold place for food storage, to live in a country where choices abounded in styles and to have the money to purchase an expensive appliance based more on a "want" than on a "need." I do feel blessed.
But that didn't stop me whining.
How Little Things Block our Growth Too
We measured and doubled check the inches as only a certain height, width and depth would work in the corner of the kitchen. The very nice and capable salesman found several choices and when one we liked came up on sale with free delivery – we sealed the deal.
A week later, they arrived with the new unit. Remeasured the area and finally we knew – yes, it would fit into the corner of the kitchen. Off the truck it came, into the house and smacked right into my kitchen island. No way would that refrigerator make it through the narrow passageway from one counter to another. The island was too high to lift the refrigerator over so back to the store it went.
That creative salesman found another unit that would fit through the passage and once again on sale with free delivery.
The following week, the guys pulled into the driveway with a new unit. Off the truck, into the house, finally through the tight opening and as they backed it up to fit into the corner – You guessed it. My new refrigerator was 1/8 inch too tall to fit into its new home.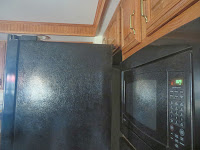 Frustrated I complained to my email buddies. That's when Karen wrote back to me with her comment that made me think as it resonated in my heart:
"So aggravating when just a little something holds back something big!"
Little Things Lesson
When faced with a huge challenge – I rely on God. Others support and pray. I trust God to light my next step.
But it's the little stuff that trips me up. Not the huge obstacles that sit like boulders blocking my path. The tiny pebble in my shoe wears down my sole soul and spreads discouragement in my spirit.
By the way my handy hubby and son-in-law took care of that 1/8 inch blockage and now my new refrigerator is at home in its cubby. The universe has been restored to it rightful balance!
Inconsequential details that I probably won't even remember a few months from now. 
Don't sweat the small stuff, right?
The next day as walked for my morning exercise, I noticed my pedometer wasn't working. The battery died. I stopped, frustrated with this interruption. I almost quit my activity until I realized like the refrigerator nuisance, this too was a minor bump. I started again and got a new battery later that day. I kicked that little annoyance out of my path and kept walking.
Overreacting to the trivial steals my motivation and energy. 
I can beat myself up for allowing such stupid little hassles ruin a day or prevent me from making progress on a project. I can give power to the smallest worries.
Or I can  remember God takes care of details too. My job is to keep walking.
Lesson learned and hopefully will be remembered next time a battery dies or a 1/8 inch blocks my way.
Nobody trips over mountains. It is the small pebble that causes you to stumble. Pass all the pebbles in your path and you will find you have crossed the mountain.
Unknown
"Let's not allow ourselves to be upset by small things we should despise and forget. Remember – Life is too short to be little."
What lesson have you learned lately from the little things in life?