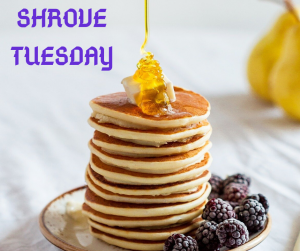 Today is Shrove Tuesday.
I didn't know much about this special day until a few years ago and now include its celebration as part of my yearly practice of entering into the season of Lent.
What is Shrove Tuesday?
Shrove Tuesday is the Tuesday before Ash Wednesday and the start of the Lenten Season.  I am sure most of you have heard of New Orleans grand party – Mardi Gras – that is celebrated on the same day.
Shrove Tuesday is the last day of what traditionally was called "Shrovetide," the week preceding the beginning of Lent.  The word itself, Shrovetide, is the English equivalent for "Carnival," which is derived from the Latin words carnem levare, meaning "to take away the flesh."  Does sound like Mardi Gras, doesn't it? While this was seen as the last chance for merriment, and unfortunately in some places resulted in excessive pleasure, Shrovetide was the time to cast off things of the flesh and to prepare spiritually for Lent.
Actually, the English term provides the best meaning for this period. "To shrive" meant to hear confessions. In England on the week before Lent began, all were required to go to the priest for confession. The confessor would then absolve them of their sins so Lent then became a time for penance and renewal of faith.
While this week of Shrovetide condoned the partaking of pleasures from which a person would abstain during Lent, Shrove Tuesday had a special significance in England.  Pancakes were prepared and enjoyed because in so doing a family depleted their eggs, milk, butter, and fat which were part of the Lenten fast.  The need to eat up the fats gave rise to the French name Mardi Gras; meaning fat Tuesday.
5 Ways to Celebrate Shrove Tuesday
Shrove Tuesday is both a day of spiritual preparation and celebration. As a day of spiritual preparation, it is viewed as a time for cleansing the soul from sinful appetites through confession and submission to the Lord.
Tradition dictates having pancakes today. Fix them at home, invite a neighbor to join you, or ask your church to sponsor a Shrove Tuesday pancake dinner.
Find a new devotional to read during Lent and have your journal handy to record your Lenten journey experience.
Make any final decision if you are giving up anything during this time.  Don't limit yourself just to food ideas – give up a form of social media, put tighter time limits on screen time, read 20 minutes each day, write in your journal daily for 40 days, write 40 handwritten notes to others, be sure to smile each day.  Be creative and honest about your dependencies. Look for ways to channel that energy into something generative and healing.
What could you add? Explore a new spiritual practice during Lent. Is the Lord inviting you deeper? Is this the time to try something new, something outside of your comfort zone or is this the time to return to a practice used in the past, but kept in your back pocket for when it might be needed? Or do you deepen a core practice–writing in your journal and sitting in quiet meditation each morning? 
Select a Bible verse(s), a parable, a poem, a Biblical person to walk with during Lent. As often as possible, read that story, learn something new about your selection, and allow its lessons and wisdom to saturate your heart, mind, and soul.
How will you observe Shrove Tuesday?  Even if you read this after that date, you can still observe its practices and at least enjoy some pancakes!!