Whiffs of Wisdom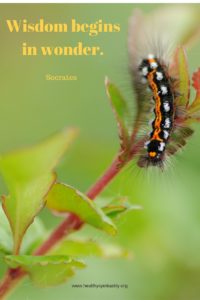 I like to catch whiffs of wisdom – those quotes, stories, conversations that ooze truth and resonated deep within us. I hear them and say, yes I want to embrace that! 
I am learning to pay more attention to them in the ordinary moments and find once I start watching for them – God's wise words are tucked into every corner of my day. I jot them into my journal, on the back of the church bulletin, onto colorful post- it notes.  With a smile, I enfold them into my heart.
I call them whiffs of wisdom because their appearance is fleeting and often quiet. Like vapor or smoke, they quickly fade without much trace.
Here are some recent whiffs of wisdom I have captured:
I heard a speaker say – we have two primary fears: One, that we are not enough and two, we won't be loved.  The truth that we are children of God banishes the first fear and that we are beloved children of God obliterates the second.  I am trying to remember this when I recognize fear's presence.

I love giving the children's message each week at church.  Yet it if often the kids' reactions and statements that communicate more than my measly words. I finished up last Sunday talking about how when we go on a vacation we can take God with us when my grandson said in a confident, passionate voice – "Jesus lives in my heart, you know."   End of message – that was all that was needed.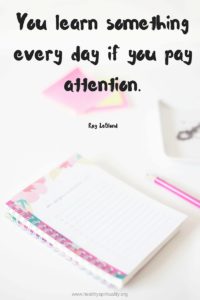 "It is easier to resist at the beginning than at the end."


Leonardo da Vinci
"I realized that I was the same person whether scrubbing a floor or writing a poem, that my dignity as a being was in no way dependent upon the role which I had at any moment to assume—for all such roles are merely that, and the person free of them all." 
Kathleen Raine
"I need to worship because without it I can forget that I have a Big God beside me and live in fear. I need to worship because without it I can forget his calling and begin to live in a spirit of self-preoccupation. I need to worship because without it I lose a sense of wonder and gratitude and plod through life with blinders on. I need worship because my natural tendency is toward self-reliance and stubborn independence.
John Ortberg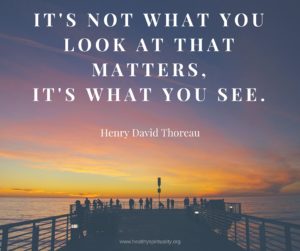 "The spiritual life starts at the place where you can hear God's voice. Where somehow you can claim that long before your father, your mother, your brother, your sister, your school, your church touched you, loved you, and wounded you — long before that, you were held safe in an eternal embrace. You were seen with eyes of perfect love long before you entered into the dark valley of life."
Henri J. M. Nouwen
What wisdom have you learned/observed lately?