But who do you say that I am?
Matthew 16: 15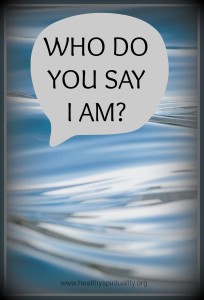 Lord I love sitting with your questions.
My ego wants to jump in and give the proper and correct answer.
Like a kid in school waving her hand, "Oh – Oh I know that one! Call on me, Master!"
But today, I hold your question – "Who do you say I am?"
Like Simon Peter I nod quietly – You are the Messiah, the son of the Living God.
I believe that.
I know that.
I long to live each day with those words on my lips.
And Lord, you are so much more too. More than I can find the words to describe or the image to imagine.
You are Shepherd.
You are Rock.
You are Creator.
You are Father.
You are Potter.
You are Defender.
You are Magnificent.
You are.
You are.
You are God.