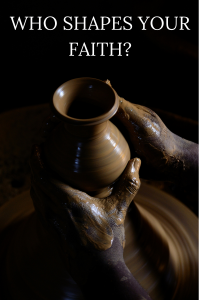 Who shapes your faith?
Deep in your most inward core of your being, the center closest to God, the Creator, who are you? Who influenced how you live from that tender place? What you believe. How you think. How you perceive others, the world, and even yourself.
Reflecting on who shaped/shapes us (both past and present tense) is a powerful question revealing insights into ourselves and why we think and act when we are on autopilot. That default mode leads many of our daily decisions and in the long run, forms the direction of our life. This also affect our intentional actions but to be honest, often we exist quite mindlessly.
Many of us will note our parents and grandparents as part of this list. Maybe a significant teacher or mentor. Sometimes an important event, ah-ha moment, or momentous situation contributed to our bent. I know even my silent still times with God formed and continues to form my heart.
Other Writers Shape our Faith
Writers, both current and ancient, make an impact on my faith.  Thinking about these people lately has been forefront in my mind since reading Phillip Yancey's book Soul Survivor.  The tag line of this book is: How Thirteen Unlikely Mentors Helped My Faith Survive the Church. His words started me to ponder which writers shaped my faith.
Yancey's book is partial personal memoir with the explorations about 13 different people such as Gandhi, Dostoevsky, C. Everett Kopp, Annie Dillard, and Henri Nouwen. Their words and lives shaped his faith as he studied how they lived, wrote. Their lives engraved his life. We get peeks into these influencers' accomplishments, failures, contexts, words, and even their personal habits.
Last summer I wrote a blog post about choosing mentor texts. These writers resonated with my spirit and wrote deeply and powerfully.  I yearn to be that type of writer.
When I was younger, Catherine Marshall mentored my faith and my longing to write.
This year I am "walking" with Howard Thurman and Teresa of Avila. Studying their lives and slowly digesting their words.
I am not sure who else right now would be part of my "13 Unlikely Mentors" but sense others in the shadow waiting to be discovered and to companion me and nourish my mind and soul.
I heard a new question this morning as I pondered this practice of identifying who shapes faith. Whose faith am I shaping? How will my life, my words nurture my grandkids' faith, friends, possibly even strangers? That thought certainly woke me up!
The challenge now is to do the work, observing, reading, listening to God through their lives and words. I sense this practice will stretch me in new and exciting ways. What adventures God takes us on. I am sure glad He is with us all the way!
What do you think of this reflective approach? Other than the obvious influencers, who shaped/shapes your life?