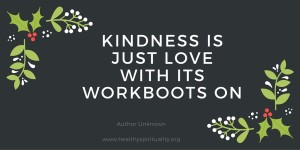 The Bishop of Myra was well known for his kindness, generosity and the way he took care of the poor. We honor this man from the third century early in December each year.
Who was the Bishop of Myra?
You know him as St Nicholas. Myra is a region in what we now call Turkey and in Advent each year, December 6 is remembered as St Nicholas Day.

Too often our focus this time of year is buying, wrapping, card sending, decorating, and running crazily all over to parties, concerts and obligations. Pausing at least briefly during Advent helps us refocus on who this season is really about. The world screams What can Santa bring me? while history shows us a caring saint who took extra steps in taking care of the poor.
St Nick was a man of God. I told his story in our church's children's moment last Sunday and shared one of the legends about him. He is a good lesson for grownups too.
Stories about St. Nicholas, the Bishop of Myra
Once there was a poor man who had three daughters. They didn't have much to live on and the father feared he would have to send his daughters away if he couldn't take care of them.
One evening the girls finished their chores – put the dishes away, swept the floor, washed their socks and put them by the fireplace to dry.
Mysteriously the next morning a bag of gold coins appeared in their home. Then two more times, two more bags were thrown through the open window.
Yep you guessed it. St Nicholas was the kind giver that kept that poor family together. It is even said that all three bags landed near the stockings hung by the fireplace.
One variation of this story tells that the father wanted to discover just who was helping his family. When he approached the bishop Nicholas to ask thank him, Nicholas calmly replied not to thank him but only thank God alone.
Nicholas is also the patron saint for sailors. One story tells of his pilgrimage to the Holy Lands. A man of deep devotion, he wanted to walk where Jesus walked and to know Christ in new ways. Sailing back to southern Turkey, a terrible storm threatened the ship. Nicholas prayer and the wind and waves suddenly became calm. The sailors knew whose prayers protected them and that they were in the presence of a man of God.
An Advent Symbol of Generosity – The Bishop of Myra
Taking the time to celebrate someone like St Nicholas during Advent brings some fun to our preparations and also refocuses our hearts on the reason for the season.
How can we best be kind, generous and help the poor?
How are we invited to open our eyes and hearts to the specific needs around us, be compassionate and less critical and do what we can to make a difference in the lives of those God has put on our paths?
The spirit of Christmas is the spirit of love and generosity and goodness. It illuminates the picture window of the soul and we look out upon the world's busy life and become more interested in people than in things.
 ~ Thomas Monson
 *************
Bless us Lord, this Christmas, with quietness of mind;
Teach us to be patient and always to be kind.
~ Helen Steiner Rice
****************
Where do you find kindness and generosity this time of year?
My latest book with 101 Advent and Christmas quotes.