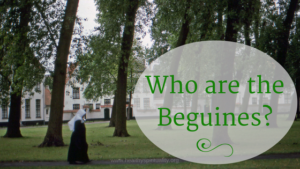 Who were Hadewijch and Mechthild?  Let's meet these two Beguine women.  
Wait?  Who are the Beguines? You can check out last week's post here to catch up on the history about this fascinating group of Christian women from the 1300's. 
In October, we will be exploring who the Beguines were and learn more about several of the women who wrote and whose names we know from history. This is part of Healthy Spirituality's Tending the Holy Thursday series that highlights a spiritual practice or a person(s) of faith for several weeks so we can explore the topic with more depth,
As usual with each month's theme, I have an additional FREE download for you. I created something different this month: a fun word search using words describing the Beguines. You can get this freebie by clicking on the button at the end of this post. And two of the answers on the word search are those strange names in the title of today's post:  Hadewijch and Mechthild.  Let's meet these two ladies and find the answer to: Who were Hadewijch and Mechthild?
Who was Hadewijch?
B

orn around 1200 into an aristocratic family, probably in Antwerp Belgium.

We have her poems and writings, including three complete manuscripts that survived from that time, which reveal her education: she wrote in Latin, French, and local vernacular and knew astronomy and the writing of early Christians such as St Augustine and Bernard of Clairvaux.

From her letters we gather she help trained other Beguines in their faith.

Her letters also indicate officials didn't approve of her theology especially concerning divine love of God and how the soul responds to that love. They also didn't approve of her teaching others, something women were not allowed to do.
  "Since I was ten years old, I have been so possessed by a wholehearted love for God that in the first two years when I began to love him so, I should have died, had he not given me greater strength than most people, have and given to my nature the power of his nature."
She wrote what we call "love mysticism" and courtly love language of the time (something we definitely are not accustomed to in today's world!) and believed in the mystical union with Christ and that is love unione was possible for everyone, regardless of their gender. Love is her theme for her writing and her life.

Serving the poor, as Christ called us all to, was essential to her faith.
  "If you wish to attain your being in which God created you, in all nobleness, you must not refuse any difficulty; with all hardiness and pride you must neglect nothing, but valiantly seize the best part, I mean the totality of God as your own wealth."
  "I wish to devote all my time to noble thoughts about great love"
   One of her poems:
You who want
knowledge,
seek the Oneness
within
There you
will find
the clear mirror
already waiting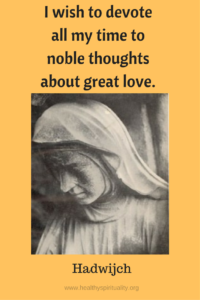 Who was Mechthild?
Born around 1208 in Germany to a family of lower nobility and died sometime between 1282 and 1294.

Also known for her writing in the vernacular German language.

She began to receive visions or what she called visitations from God about the age of 12 and entered a beguinage about 10 years later.

Wrote about her visions, poetry, hymns, letters and dialogues with God that were transcribed by her spiritual advisor, a Dominican priest.

Her most famous writing is called "The Flowing Light of the Godhead."  Like Hadewijch, she wrote with flowery love language as in this quote:  "Lord, you are my lover, my longing, my flowing stream, my sun, and I am your reflection."

One of my favorite quotes from her:

"I cannot dance, Lord unless you lead me. If you want me to leap with abandon., you must intone the song. Then I shall leap into love. From love into knowledge, from knowledge into enjoyment. And from enjoyment beyond all human sensation. There I want to remain, yet want also circle higher still."

Her criticism of the lax behavior of the local priests and her writings brought her under suspicion and even a call to burn her written works.
"God has enough of all things, only to touch the soul is never enough for God."
"The day of my spiritual awakening was the day I saw and knew I saw all things in God and God in all things."

Even with the use of words that are common in today's faith, I admire the Beguines for living their faith in their words and actions. What a courageous step to take in an age where women were not only devalued, but persecuted for speaking, writing, teaching and even criticizing the church. Both Hadewijch and Mechthild wrote and lived by the belief that they were vessels of divine inspiration and had the authority to speak for God from their visions and with the Holy Spirit. And to think – most of us never heard of them or read their words – what a loss that is to our sense of history and to our faith.
Next Thursday we will explore two more lives of the Beguines and from their stories get a glimpse to the spirituality of these fascinating group of women from the middle ages.
Don't forget to download your free word search about the Beguines by clicking on the button below.  I would appreciate you sharing this post with others and inviting more to visit Healthy Spirituality. We are building a great community here. Thank you!
Click Here to Get the Wordsearch. Enjoy!
What do you think about Hadwijch and Mechthild?  How comfortable are you with the mystical love language so common from the middle ages?  What would we learn from their words to apply to our lives today?