For my thoughts are not your thoughts, neither are your ways my ways,"
    declares the Lord. "As the heavens are higher than the earth,  so are my ways higher than your ways and my thoughts than your thoughts." Isaiah 55: 8-9
Lord, these two verses, every word, brings relief to my soul.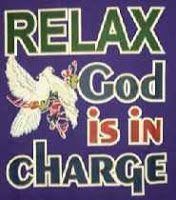 Thank you for not running the world on the condition of MY thoughts and MY ways.
Though You know at times, a part of me thinks I could do better or have doubted Your wisdom, I do know You know best.
Your ways shine the light so humans' ways can follow.  We get lost. We wander. We make bad decisions. We let our ego rule. Thank heaven, Your ways exceed ours.
Your thoughts transcend us beyond our greatest imagination. 
I smile thinking of the movie "Bruce Almighty" and all the mistakes he makes when God leaves him in charge. We have messed the world up enough NOT really being in charge. What devastation would humankind do IF we did have Your power.
Lord,  humor me here. I hereby, hand you back the world. Please take along with that my thoughts and my ways.  Just take all of me. You are the boss and I sure am glad you are.