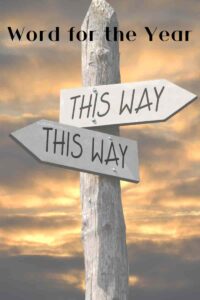 My word for the year wavers this year. I have done this practice of exploring and pondering one word throughout the year for more than 10 years. A word for the year is a rewarding, deepening, guiding discipline. But I struggled this year with discovering the word that best fit my soul.
I started in November listening, watching for words that shimmer, resonate with potential to be guiding stars. The list grows, then narrows to a few candidates for prayer and "second interviews." Does the word stretch my imagination, contain enough mystery to invite me deeper, touch a hunger within my soul?
I read what others were discovering and learning. Listening, looking, seeking a new word for 2023.
The past few years spoiled me with a clear winner. A strong word that taught me lessons and brought me closer to God.
This year that hasn't been true. Yes, I watched for key words. Yes, I wrote out a list. Yes, I began to narrow the list down to a few possibilities. Then I would decide. Then two days later choose another. Then waver back and forth.
You would think my word would be doubt or second guess, wouldn't you? Not really.
Here are the list of contenders:
Thirst
Story
Transcends
Deeper/deep
Into
Open
Honor
I go back and forth and now conclude my word(s) of the year will be:
Honor the thirst deep within.
A guiding light for 2023. Where will it lead? I don't know but they I invite me to explore, to ponder, to allow this phrase's wisdom to shape my journey.
Some years a Bible verse emerges but none so far this year. Maybe Psalm 42 but I am still listening. I do have a question for the year:  What does this mean?  A good Martin Luther question to seek deeper the meaning of a scripture, circumstances, thoughts, and life.
I am reminded to enjoy the journey and not rush to the final destination. My struggle with choosing a word this year reflects that. Maybe I listen more carefully for God this year than other years. Maybe having a phrase to guide me will take me places beyond my imagination. With God, life is an adventure!
In 2023 on this Health Spirituality blog, I will occasionally share my lessons with this phrase and some key practices that nurture our souls.
What does it mean to:
Be awake, present, mindful
Be curious, growing
Be humble
Be open, flexible
Be connected
Be honoring, obey, organized, others, self, and God
Be thankful and content
Be loving, compassionate, and kind
Be grounded, stable have a foundation, even in rough times
Be amazed, joyful
Be a positive difference maker,
Be faithful and trusting
Be consistent, persevere
Be patient
Be forgiving
I am looking forward to a year exploding with God's transformation, of being shaped by God's words, grace, and love. May 2023 embrace you with God's tender, ever present, and amazing love.