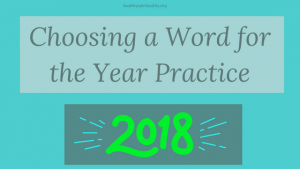 I am a goal setter. People who know me well know I love organizing and designing a 90 day or full year plan of action and seeking a direction and implementing a blueprint for the future.  This is both good and bad. After all life does interfere and God is in charge, not me.  LOL
One of the practices that has guided my decisions, prayers and focus each year is choosing a word for the year. Actually, the word choses me – it keeps nipping at my heart, reoccurring in messages and in stories, unfolds in my thoughts.
How to Choose a Word of the Year
I have written about this practice in the past and have included resources so I won't repeat all the instructions here but share my previous posts about this valuable practice.  I encourage you to take the time to read these, especially if this is new for you.
How do you find a word for the year?  Simple follow these steps:
Pray – ask God to show you the quality that He wants to mature in you. Or the word that He wants to transform your life with.  I brainstorm a list of 10-15 possibilities. Then watch for one to keep nagging at my heart or reappearing in what I read or hear. Watch for common themes.
Narrow down your list to the top three and look up definitions of these top three.
Pray again. Don't over think this process. Just lean into the experience.
Choose one that resonates with you. Does one excite you? Invite you closer to God?
Keep this one word in front of you throughout the year. Ask yourself periodically how this word is shaping your life. What is God inviting you to do with this word?
Here are the top ten most often picked words of the year:
Trust
Patience
Love
Discipline
Focus
Faith
Surrender
Peace
Listen
Joy
Here are some great resources for you to explore this practice:
How to Choose a Word for the Year
Abbey of the Arts offers a free online course that I have taken several times to help me in discovering my word.
The Word of the Year for Me is …
My word for 2018?  ENOUGH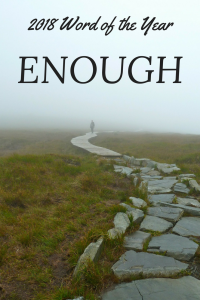 I want to live each day knowing God is enough.
"The greatest lesson a soul has to learn is that God, and God alone, is enough for all its needs. This is the lesson that all God's dealings with us are meant to teach, and this is the crowning discovery of our entire Christian life. God is enough!"  – Hannah Whitall Smith
2. I want to live each day remembering I am enough.
I struggle too often with feeling I am not good enough. We are all beloved children of God – created by him, for him and we are enough.
3. I want to live each life grateful for having enough.
So many in the world live without food, clean water, safe homes. Our society screams at us all the time to buy more, be more, compare ourselves to others and what we don't possess. I choose to be thankful for all God has given me and that is enough.
Let me know what word you chose for the year and let's encourage each other to connect closer to God in 2018 through his Word.