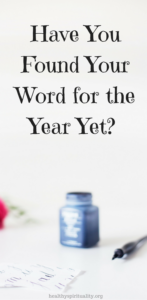 Do you choose a word of the year?  Many people participate in this practice – yearly choosing a word or phrase to frame or accompany them in the next 12 months. Some people will even say their mind didn't do the selection, but the word settled on its own in their hearts.
I have followed this practice for the last few years and am always amazed how the word weaves itself throughout my life. The word pops up in quotes, in my reading, in conversations.  I hear it in prayers and sermons and presentations. I will be walking and an image of the word bubbles up. I hear it in dreams and in emails. 
My word grounds me, gives me an anchor for the year and helps me focus. Only one year, did the word never add much to my spiritual growth.  I should at some point go back and reread my journal from that year and see if that word breathed more life into my life than I realized or maybe another word intertwined that year that I never noticed.
The Origin of a Word of the Year
In the third and fourth centuries, men and women seeking God would live in solitude, silence and continual prayer in the deserts and wilderness outside of the towns in the Middle East. These Desert Mothers and Fathers gained a reputation for wisdom and many would seek their advice for their lives.
People would find an Abba or Amma and ask, "Give me a word."  This word or phase would be something for them to ponder for guidance and knowledge.
One word could last a whole life.
One word could transform a whole life.
How to Find Your word
I wrote a blog post last year about how to choose a word of the year – click here for the post – and you may find reading it again useful.
The process to opening your heart to a word is found in listening, paying attention and noting.
Start with asking God to help you find a word of the year. What word will draw you closer to God? Listen to what you need or desire in the season of your life.

Is there a hunger? A longing?  Is there a way you want to feel, change, grow in the next year?

Say the word out loud.  Does it sound right to you?  Does it appeal/excite/taste good to you when it passes over your lips? Does it ring in your heart?

Pay attention to words that resonate or shimmer in your soul. Your word likes to play hide and seek and often will peer out at you in surprising places. Pay attention.

Begin taking notes of potential words of the year. Fun to watch how one word leads to another then another until the final one emerges.

Give the process time. You don't have to have just the right word by a magic date on the calendar. Like the best tasting stew, allow the flavors to simmer.

Trust your spirit.  Trust THE spirit.
Abbey of the Arts offers a free 12 day online mini retreat to help uncover your word of the year.
Word of the Year Examples
Here are a few examples of a word of the year to help you get started.
Cultivate, joy, peace, stretch, acceptance, share, gather, presence, enough, believe, unfolding, trust, abide, simplify, cherish, notice, share, awake, trust
A more complete list of ideas can be found at this website.
My 2017 Word of the Year
I wrote down the word "reach" towards the end of November. There was something about that word that called to me. Reaching upward, reaching out to others, reaching inward to my soul. The action in the word reach felt like an invitation to my heart.
I felt a deep desire to grow in being mindful of whomever I was with in a more engaged way.  I felt drawn to being present in a deeper fashion. My desire was to give my full attention to what or who was before me.  I wanted to practice full listening, not planning my next sentence or thinking what else I needed to get done. Deep, not shallow presence. I didn't want to rush my time with God nor rush my time with others.
Then I sat back and watch how one word led to another to another – slowly unfolding and emerging.
Reach –) touch –) community –) relationships –) engagement –) fellowship –) presence –) to what now seems to be shimmering the most:
Attentiveness
My word of the year appears to be Attentiveness. I will hold this word lightly for about another week to let it take root in my spirit but I think this may be the one.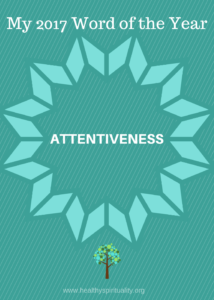 How about you?  Do you participate in the practice of a word of the year?  How has it helped you?