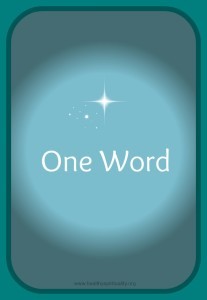 How do you choose a word for the year? Do you even choose one word for the year? One single word to guide your journey into the next chapter of your life?
I am a goal setter. Yes, one of those crazy detailed people who makes lists and exhaustive files of what I want to get done, by when, how much and even my why. I love planning and to be honest, planning is my finest form of procrastination.
Perhaps that is why the simplicity of choosing one word appeals to me. One word for the year is straight forward, easy to remember and downright fun.
I have learned four things about finding just the right word each year. I call it my SOSS.
Surprise: Often it is not of my choosing. The word comes on its own and appears unexpectedly. Towards the end of the year

I pay attention to what words resonate within me as I read. Does it seem like I see it everywhere? It pops up in conversations. I begin a small list of potential possibilities (of course I would have a list! LOL) and then pray, wait and listen.

Openness: Waiting for just the right word to bubble up, out of my control, without my worrying and manipulating is difficult. I've learned that the word will come, more often if I just relax and not force its appearance.
Savor: As you can tell, I like to make a list and get things checked off. I have learned to allow the word that is calling to me grow in flavor like a big pot of chili simmering all day or fruit to ripen to the right point. Once I think I know what the word may be I hold it lightly up to God for his blessing and insight. I sit and listen and wait again.
Symbol: Once the word emerges, it is fun to find a symbol and a Bible verse to accompany the word. I put the word in my journal and by my desk and even on my blog sidebar. Then I watch for its wisdom throughout the year as it takes me to places and insights I never expected.
This year discovering my word for 2016 came from a new source. I have been listening to periscopes and podcasts and one person who is fun and motivating to hear is Chalene Johnson. She offered a life assessment in late October where you scored different areas of your life on the scale of one to 10 with ten being the best.
You can guess most of the categories: physical, spiritual, learning new things, financial etc. But when she mentioned one particular dimension I cringed knowing this was definitely not a strength.
She asked: Are you doing things that bring you joy in life?
This was my lowest area in her assessment. I wait till the last minute to read a book I want, then rush through it or fall asleep because it is the end of a busy day. I don't take the time for fun and to smile and to laugh. Though I practice expressing gratitude each day, I don't relish it and allow it to seep into my heart.
I knew finding joy could be a possibility for the 2016 word so I applied my SOSS.  Joy continue to rise to the top and emerge as THE one word.
My word for 2016: JOY.
Each day I will find delight.
My image of the year is: DANCING WITH GOD.
I think those two go together. Now I am listening and searching for just the right Bible verse to accompany.
If you want to read more about how to choose a word of the year here are some resources.
What do you think? Do you have a word for 2016? What helps you choose a word each year?