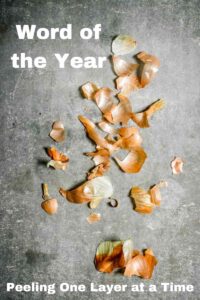 Word of the year practice can be a driving force in deepening our self-knowledge, in finding clarity and meaning, and in growing closer to God.
Peeling off the layers of our words takes intention, observation, reflection, and maybe some wrestling with our words.
I just spent several hours in my journal and Bible exploring my phrase this year – "Honoring the thirst deep within." I feel like I am coming up for air after concentrating and listening actively to what the Spirit is teaching me. John O'Donohue wrote, "Longing is the voice of your soul." I am deeply listening for this voice.
Like peeling an onion, this process comes off one sheer section at a time and perhaps with a few tears. And this is only the start of the unraveling of this adventure into these words. Right now, I hold more questions than answers – and maybe that will stay true throughout this process. Each layer contains lessons.
A few tidbits of what I am noticing:
What other words describes my primary word of thirst? Hunger? Longing? Craving? Hope? Yearning?
Is my primary word, thirst, singular or plural? One thirst or many?
What am I really thirsting for? God? Love? Community? Connection? Completeness?
Is this an emptiness? – a human need for belonging, success, power, healing of a wound? Could it be spiritual dryness or a sense of worthlessness? Or a Holy Vacuum only filled by God. Like the saying from Pascal: "There is a God-shaped vacuum in the heart of each man which cannot be satisfied by any created thing but only by God the Creator, made know through Jesus Christ." I certainly hope it is this last one, but I need to unpeel this layer for a clearer understanding of my longing. That is honoring this thirst – observing it, recognizing it, paying attention to its voice.
Or is this thirst really God within calling me deeper? Then my word changes from thirst to Thirst with a capital "T."
Will this thirst/Thirst ever go away? I am beginning to realize this is a lifelong longing – at least during this human adventure on earth.
What am I learning? One tip to this process I have started in my journal is to highlight in a different shade of marker any writing referring to my phrase. I review my journal periodically marking certain passages in yellow. If I am ever going to be able to grow, notice, learn in this exploration of my phrase, I need to color the words differently, so they stand out more easily for review and prayer.
Dear Friends, I hope this rambling peek into my process doesn't bore you. It is my hope maybe these words inspire you to pause, peer deeper, listen more acutely, and to be with God with your full attention.
Even if it is only one layer at a time.
Happy Valentine's Day by the way. May you know God's love is always with you!