Words Matter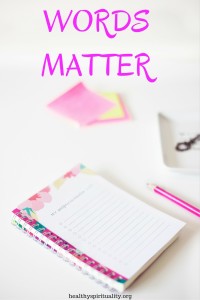 Do you realize that your words matter? Words are more powerful than we can ever imagine.
Words encourage.
Words empower.
Words excite.
Words equip.
Words engage.
Words entertain.
But words can equally cause the opposite reaction.
Words matter.
Any one who has been bullied knows the power of words. I can still remember in sixth grade as we completed a study about the American Indian being called "Indian Fatso." Not only do I still feel the sting of the words, I can picture the classroom, hear the boy's taunting voice and even know which row my desk occupied.
A torn jacket is soon mended; but hard words bruise the heart of a child.
Henry Wadsworth Longfellow
Ever notice how negative words remain seared in our hearts and wrapped their tangled, deep roots around our fragile ego?  On the other hand, compliments and sincere comments drip off our skin like water on a duck.
Words are like eggs dropped from great heights; you can no more call them back than ignore the mess they leave when they fall.
Jodi Picoult
March contains interesting observances about words. This week is National Write a Letter of Appreciation Week.
March 11 is also celebrated as National Words Matter Day, though I have also read references to this being observed last week too.
No matter when we mark the day or week, the challenge to each of us is to be aware of how we use words – positively, making a difference in the world or spewing negativity and dark daggers towards others.
Words are loaded pistols.
Jean-Paul Sartre
Words can be either bullets or seeds.
I hope from now on to be intentional in my use of words. Listen to my vocabulary. Chose silence if words are not necessary and only used to stroke my ego.  Be life-giving with what I say and provide hope, not discouragement. Use words to inform and form, not just make noise.
Words matter.
This week I am writing thank you notes.  I attended the Florida Christian Writers conference last week and plan now to send a letters of appreciation to their organizers, people I met and the keynote speaker, Robert Benson. I loved his presentations and as a writer left immensely inspired by his sharing of his thoughts expressed in his book, Dancing on the Head of Pen.


Words are, of course, the most powerful drug used by mankind.
And once again I want to thank you – yes, YOU – for reading these words. For leaving a comment. For sending an encouraging email. For being with me at times where words wouldn't heal.  Thank you.
How will you use your words this week to make a difference in someone's life?