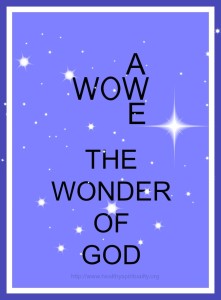 Two words: Wow! Awe!
These words leap from our hearts seizing our breath when we dive into wonder. We are so mesmerized, captured by amazement, we can barely mumble one syllable.
Anne Lamott describes it as when we feel the breath of the invisible, of the eternal. We are shaken awake, we notice, we grasp that there is more than just ourselves, our lives.
On Easter morning when I reflect on the depth of God's love – I stand in awe and wonder and hold my hands up in a thrilling WOW!
This is how I felt watching this TED talk about wonders when movement is slowed down so we can really see what is happening or sped up for us to enjoy. To ponder the tiny and consider the immense.
Take a moment to enjoy, then thank the Lord of Creation for reminding us of his Wow and Awe. The Wonder of God.
[ted id=1969]
(The winner of Spiritual Misfit, the book giveaway from last week is Colleen. Congrats Colleen.  Your book is in the mail!)